2018 Shelter House Thunder Bay - The Great Outdoor Raffle
Posted June 25, 2018 | Events
Published Article: TBNEWS WATCH 06/12/2018
Shelter House unveils outdoor raffle


Fundraiser has more than $8,500 worth of prizes available.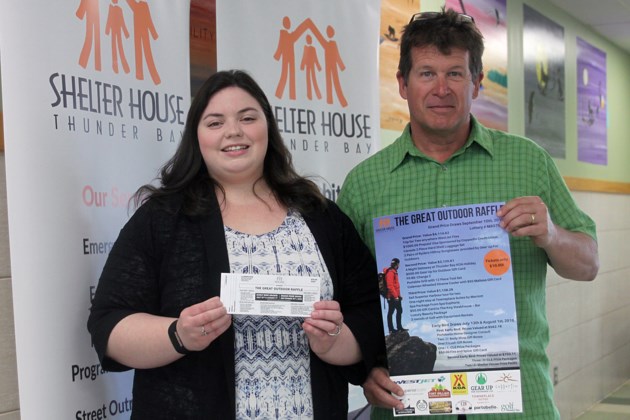 THUNDER BAY – The Shelter House won't be the only big winner with its newest fundraising initiative.
The organization on Monday launched their first annual Great Outdoor Raffle, which has more than $8,500 worth of prizes up for grabs.
Amber Prairie, the development officer at Shelter House, said the theme is a natural fit for summertime.
"Thunder Bay is very outdoorsy and people love to adventure and step outside of their comfort zone," Prairie said. "I think that is going to make it really successful."
The grand prize, valued at more than $4,000, is a trip for two anywhere WestJet flies, along with a $1,000 pre-paid Visa, a two-piece hard-shell luggage set and two pairs of sunglasses. The second grand prize package, valued at $2,100 includes a four-night deluxe cabin getaway at the Thunder Bay KOA Holiday, $500 Gear up for Outdoors gift card and a FitBit. Other prizes include a Sail Superior wine and cheese cruise and free rounds of golf.
The winners are going to get whole packages and experiences, Prairie said.
"The people who are going to be buying tickets, they're going to be supporting the shelter but they're also going to be getting something really amazing out of it," Prairie said.
"Whether they win or not, they're still going to be supporting the shelter."
It wasn't hard to find sponsors wanting to help out, Prairie said.
"Everybody was really excited about it. Everyone was really receptive and wanted to jump on board right away. They were very generous," Prairie said.
"I think it speaks to the important work we're doing and that organizations and local businesses want to support us the best way they can."
Gear up for Outdoors co-owner Jon Wynn said the company has partnered with Shelter House before and recognizes the importance of giving back to the local community.
"When she was talking about being outdoors, Thunder Bay is a great community with outdoor activities whether you're out hiking, biking, camping, fishing, we're all about being outdoors. I said let's get on with this, it's a great opportunity," Wynn said.
The grand prize draws will be on Sept. 10 with early bird draws on July 13 and Aug. 1.
There will only be 4,300 tickets sold at $10 each. Tickets are available at the Shelter House, Gear up for Outdoors, The Body Shop, the Canadian Lakehead Exhibition office and KOA Holiday.
---
Commenting has been disabled for this post.