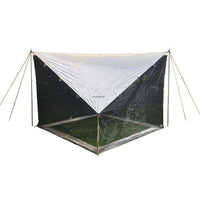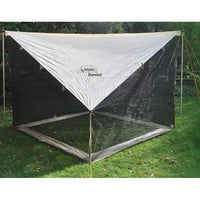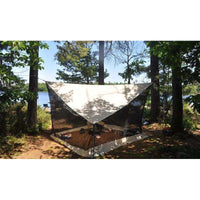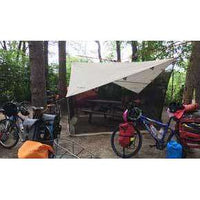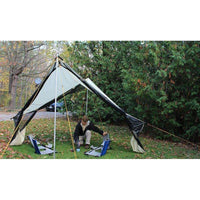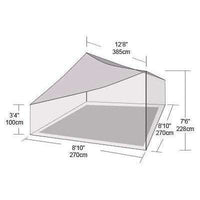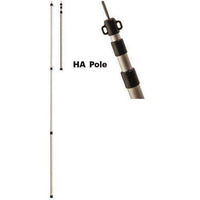 Eureka NoBugZone T13 Shelter
A tremendously popular cost effective way of enjoying the outdoors bug free. The Eureka NoBugZone T13 Screenhouse is a lightweight & compact bug shelter, it is a lighter version of the Eureka VCS original shelter system. The NoBugZone is ideal for canoe & kayak trips, cycling trips, group backpacking, backyard and cottage. A canoe tripper's delight! Now you have two convenient NoBugZone Shelters to choose from... The NoBugZone Dining Tent is a larger version of the Newest T11 NoBugZone Dining Tent Shelter introduced this past summer with rave reviews.
... a larger version of the new Eureka NoBugZone T11 and is still lightweight & compact for canoe tripping.

3 Zipper sliders per door allows use with hammock when tied off to trees.

Added tarp tie offs, 3 per tarp edge, all reinforced

Internal gear rings enable internal clothesline tie off

Tie back loops, allows mesh walls to be tied back when using as shade/rain shelter.

Car Camping - Occasional Backyard & Cottage Use-Summer


The Eureka Aluminum HA Height Adjustment Poles are a great option for Fly & Side Walls in treeless areas. 
Colour: Beige
Tie Off Height: 7' 6" [230cm]
Centre Peak Height: 7' 2" [220cm]
Side Height: 3' 4" [100cm]
Length Across Spine: 12' 8" [385cm]
Side Length: 10' [305cm]
Floor Dimensions: 8' 10" [270cm] x 8' 10" [270cm]
Weight: 5lb 8oz. [2.65kg]
Pack Size: 7" x 7" x 19" [17 x 17 x 49cm]
Fly Sheet Material Coatings: 75D polyester with 1500mm PU Coating, Taped Seams
Mesh Material: Polyester no-see-um in black
Sod Cloth Material: Width: 10" [25cm] ~ 75D Polyester with 1500mm PU Coating
Zippers: #8
Included: 6 guylines, 12 stakes