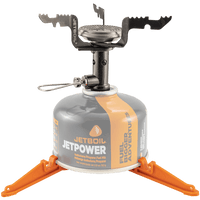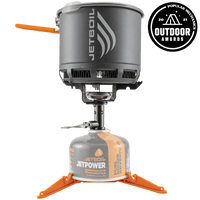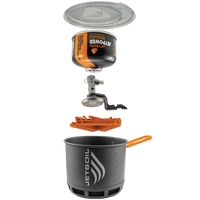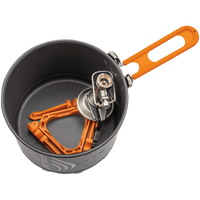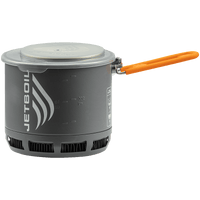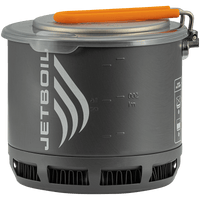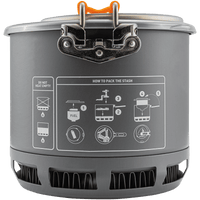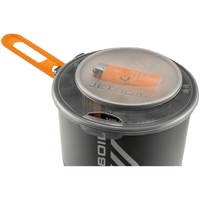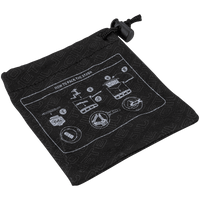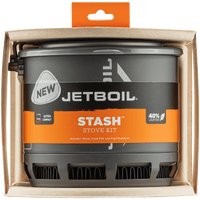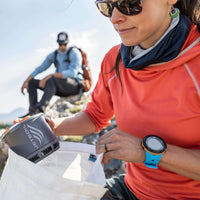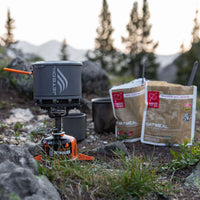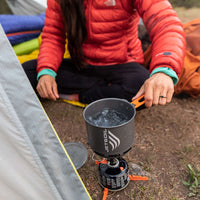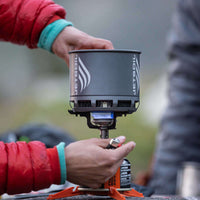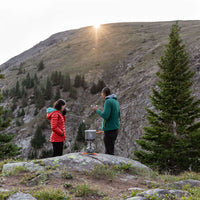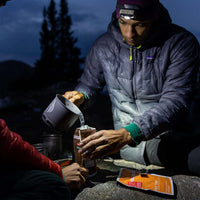 JetBoil Stash Personal Stove
We know your dreams are big and ambitious. Which is why we designed the all-new Jet Boil Stash to be efficient and compact, maximizing your pack space without sacrificing that iconic Jetboil performance.  Time to dream big, and pack small.  When you've streamlined every last item in your pack, your only remaining option is to leave essentials behind. Faced with the underwhelming thought of a coffee-free morning, we got to work on our lightest and most compact stove system ever.
At 7.1 oz, the 0.8L Stash is 40% lighter than the 0.8L Zip

Stand-alone stove with titanium burner and 0.8L FluxRing cook pot is the lightest Jetboil system ever made

FluxRing technology ensures a rapid 2.5 minute boil time

Nesting design makes taking anywhere compact and easy

Cook pot with lid and attached pour handle makes for easy handling

Fuel stabilizer keeps everything stable and steady

Storage for 100g JetPower fuel canister makes adventuring anywhere easy

One-year limited warranty

NOTE: Fuel canister sold separately and not available for online purchase
Compatible accessories include Grande Coffee Press, Hanging Kit, Utensils.
Fuel Canister Stabilizer included

Jetpower fuel sold separately. Due to flammable item shipping restrictions, we cannot sell fuel canisters online; they are available at numerous retail stores.
Type: Personal Cooking System
Persons: 1 - 2 Person
Color: Metallic
Usage: Heating & Boiling Water, Melting Snow, Gourmet & Trail Cooking
Best Use: Backpacking, Backcountry, Canoeing, Ski Touring
Fuel Type: Canister, Fuel: Isobutane-propane
Piezo Electric (Automatic) Start: NO - Match or Lighter
Item Weight:

1.15Lbs [0.52 kg]

System weight excludes fuel stabilizer.
Stabilizer Weight: 0.9oz (27 g)
Power: 4,500 BTU/h (1.32kW)
Volume: 27oz [0.8 Liter]
Boil Time: 2 minutes 30 sec. per 16oz [1/2 Liter]
(avg. over the life of Jetpower can)
Water Boiled: 12 Liters per 100g Jetpower can
Heating & Boiling Water, Melting Snow, Cooking
Dimensions:

4.4" x 5.1" [11.2 cm x 13 cm]
Technologies:
WHAT DOES FLUXRING DO?
This patented technology captures the heat of the burner and directs it into the contents of the FluxRing cup or pot, rather than into the air as waste. The FluxRing heat exchanger makes it possible to heat a conveniently shaped vessel with extremely high efficiency.
Speed Freaks + Combustion Geeks
At Jetboil, we're speed freaks, combustion geeks & obsessive engineers fighting the tyranny of inefficiency. From lab table to backcountry bivouac, we're committed to the principle that even the best solutions can be made better. Standing against the acceptance of "Good Enough" we look beyond the limits of current technology to redefine what's possible.