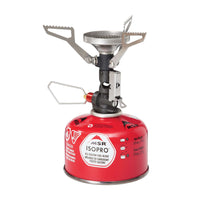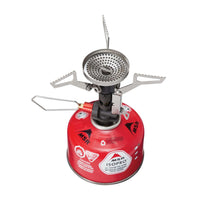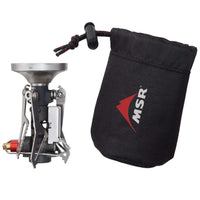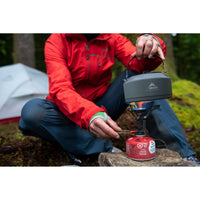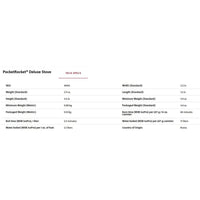 MSR PocketRocket Deluxe Stove
This enhanced PocketRocket stove boasts premium features, including a pressure regulator that makes it ideal for all-condition environments, offering consistently faster boil times than non-regulated canister-mounted stoves. Just a smidge heavier (10 g/ 0.3 oz, or the weight of two nickels) than the PocketRocket 2 stove, this ultralight deluxe version features the most durable push-start Piezo Igniter we've ever built and a broad burner head for better heat distribution and simmering. For backpackers traveling fast & light on the trail, or a quick weekend in the Cascade Range, this deluxe model offers one of the best overall cooking experiences in its ultralight class.

Ultralight: Weighs just 83 g (2.9 oz.)  a smidge heavier than the PocketRocket2 and ultra-packable; expands the menu options for ultralight backpacking.
Consistantly Fast: Boils 1 liter of water in just 3.5 minutes. Pressure regulator maintains stove's fast boil times even in cold weather & with low fuel.
Compact: Folding pot supports pack exceptionally small, fitting into an MSR Titan or Insulated Mug.
Push-Start Ignition: Fast, reliable piezo lighting; spark igniter is protected inside burner for maximum durability.
Broad Burner: Improves wind resistance and combines with simmer control for excellent cooking versatility; wind-blocking burner lip. 
Fuel: For best results with canister fuel, always burn MSR IsoPro fuel.


CONVENTIONAL CANISTER STOVES:
Pocket Rocket, PocketRocket Deluxe, PocketRocket2, Whisperlight Universal Hybrid Stove, Windburner Stove. Delivering big performance in light and compact designs, MSR canister stoves are engineered to make wilderness cooking quick and easy.  Each stove is engineered to satisfy a unique demand - from ultralight, fast-boiling performance to precision simmering capabilities.


MSR SIMPLE COOKING:
The mainstay of most back country travelers, MSR Simple Cooking stoves offer versatile, all-around performance for preparing a variety of meals on the trail.
Simple Cooking Series
Minimum Weight: 2.9oz (0.83 kg)
Packaged Weight: 3.4oz (0.97 g)
Dimensions[LWH] 1.5" x 2.2" x 3.3" [3.8 x 5.6 x 8.4cm]
(Isopo Fuel sold separately)

BURN TIME STATS:
Burn time (MSR IsoPro) per 227-g / 8-oz. canister Appx. 60 minutes
Boil time (MSR IsoPro), 1 liter in 3.3 minutes
Water boiled (MSR IsoPro) per 227-g canister 17 liters
Water boiled (MSR IsoPro) per 1 oz. of fuel 2.2 liters