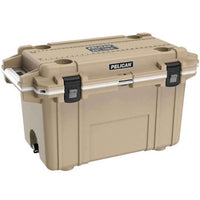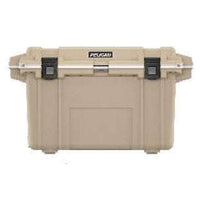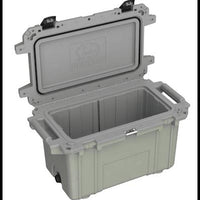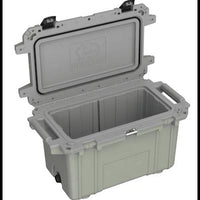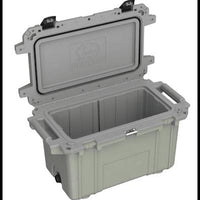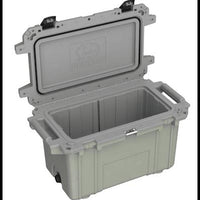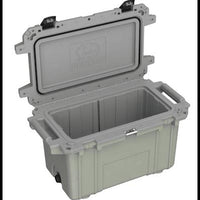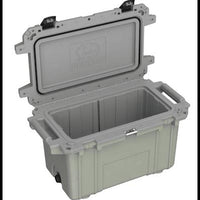 Pelican 70 Quart Elite Cooler
Pelican Products, Inc. has protected defense, emergency and scientific expedition equipment through some of the harshest conditions on Earth since 1976. This same DNA is now available to you in Pelican Elite Coolers. The Pelican 70 Quart Elite Cooler is a Roto Mold Cooler having the Bear Resistant Certification from the Interagency Grizzly Bear Committee [IGBC]..
We hold ourselves to higher criteria than other cooler makers. When it comes to durability, performance and ergonomic design, just "good enough" doesn't cut it. As a result, Pelican Elite Coolers perform to higher standards — better than any cold locker, tougher than any icebox. Pelican Elite Coolers are true next-generation innovations, created to last a lifetime.
From the latches to the freezer-grade seal to the toughest handles in the business, every part is engineered to our extreme durability and performance standards. Which is why we feel confident in providing you with a Lifetime Guarantee. Not three years. Not five years. A lifetime. Something the other makers don't (or can't) do.
Whether you're on the hunt of a lifetime, far out at sea with a cooler full of catch, crossing deserts on safari or simply tailgating during a big game – the Pelican Elite Cooler is the one for you.


72.42QT [

68.53Litre]

 Ideal size for hunting, fishing, outdoor
Extreme ice retention

Fish Scale in Imperial/Metric Sizing Grid
Large Heavy Duty Press & Pull Latches
Integrated Cup Holders
Built-in Bottle Opener
Tethered Threaded Plug & Sloped Drain
Non-Skid & Non-Marking Raised Feet
Molded-In Lock Hasp, Stainless Steel Plate
Bear resistant certification from the Interagency Grizzly Bear Committee [

IGBC]

.
Made in the USA

Guaranteed for Life

SHIPPING NOTIFICATION: 
Due to Volumetric Weights for all  Pelican Elite 30, 50, 70 Quart Elite Coolers; shipping is cost prohibitive. If you want a freight quote please let us know or Pick Up In-Store is the only feasible option.
One Size: Large Capacity
Color: Assorted
Interior (L×W×D): 23.50 x 11.00 x 14.30 in [59.7 x 27.9 x 36.3 cm]
Exterior (L×W×D): 36.00 x 20.30 x 21.00 in [91.4 x 51.6 x 53.3 cm]
Volume: 72.42QT [68.53 liters]
Can Capacity: 53 beverage cans or 65lbs [29.48kg] of ice
Interior Volume: 2.14

ft³ [0.061 m³]

Insulation Thickness: 2.00" [5.1 cm]
Weight: 33.29 lbs. [15.1 kg]
Material: Body (Polypropylene), Latch (ABS), Handle (Polypropylene), Hardware (Stainless Steel), Insulation (Polyurethane Foam)
Usages: Campground, Cottage, Backyard, Boating, Hunting, Fishing, Beach
The Pelican Elite 70 QT. Roto Mold Cooler has the Bear Resistant IGBC rating.
Bear resistant certification from the Interagency Grizzly Bear Committee [IGBC CERTIFICATION NO: 5086]
COOLERS REQUIRE USE OF BOLTS OR PADLOCKS TO BE BEAR-RESISTANT
Including the following sizes: 45 QT, 70 QT, 80 QT, 95 QT, 150 QT, 250 QT
Pelican Products, Inc. is proud to announce our bear resistant certification from the Interagency Grizzly Bear Committee.
The purpose of this certification is to help keep bears safe and significantly reduce bear-human encounters by ensuring that bears do not have access and become conditioned to anthropogenic foods and other bear attractants that increase these encounters.
This certification involves intense impact and penetration testing by use of visual inspection, mechanical methods and captive Grizzly Bear testing over extended periods of time.
**Pelican™ Elite Coolers are certified bear-resistant by the IGBC under certification numbers 3365, 3366, 3373, 3374, 3375, 3376