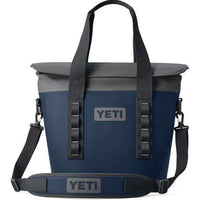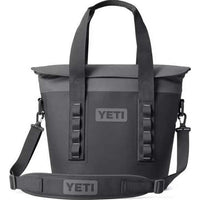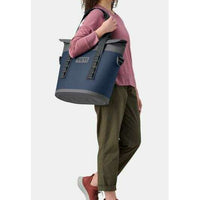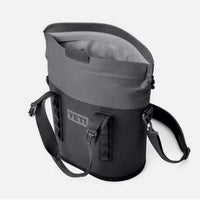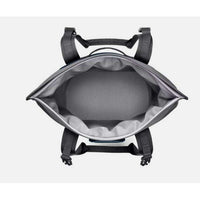 Yeti International Hopper M15
Introducing YETI's newest tough
-
as
-
nails soft cooler, the Hopper
®
M15. This adventure ready 
soft cooler is ready for trips to the beach, a day on the boat, or a quick hike. Made with their 
durable, powerful wide
-
mouth opening and MagShield Access, it stays open when you're 
loading it and closes tight with a gentle push.
It holds up to 32 cans of your favorite beverage
(15.5 lbs. of ice). The Kangaroo Pocket lets you easily stash away keys, a wallet, or phone. A 
strip of durable ultra
-
strong magnets locks in cold while Quick
-
Release Buckles provide extra 
security through
choppy water or when riding through rough terrain in the bed of a truck.
*355 ml cans only
WARNING:

Do not leave your soft cooler open in the presence of children and animals.
Entrapment and suffocation can occur.
WARNING:

Hopper
®
Soft Coolers are not co
mpatible with dry ice. Use of dry ice will cause 
airtight vessel to explode.
WARNING: This product contains magnets. Placing near a pacemaker may cause interference.
● MAGSHIELD ACCESS
Durable and powerful magnets create an ultra leak-resistant shield that stays open when
you need it and snaps closed with a gentle push.
● DRYHIDE™ SHELL
Easy-to-clean, high-density fabric resists punctures and UV rays.
KEEPS YOUR ESSENTIALS AT HAND
● KANGAROO POCKET
Phone, keys, wallet, or a little bit of hot sauce. Easily access all your must haves.
● HITCHPOINT™ GRID
Securely attach your SideKick Dry™ Gear Case or load it up with zingers, nippers, bottle
openers, and multitools.
● COLDCELL™ INSULATION
Closed-cell foam offers impressive cold-holding capabilities, helping keep your frosty
goods ice cold.
● LEAKPROOF LINER
RF welding used to eliminate stitching and provide leakproof seams in the interior liner
● DOUBLE-STITCHED CARRY
Every pick-up point is reinforced so you can handle more weight than you'd prefer to
carry.