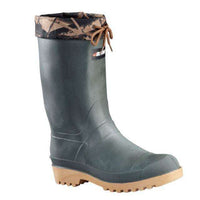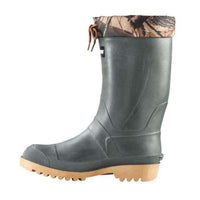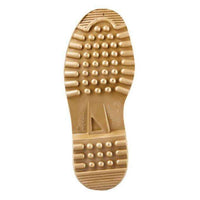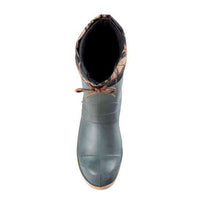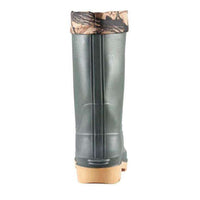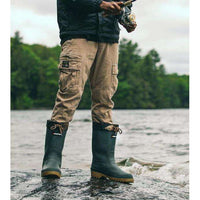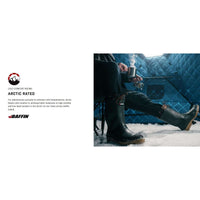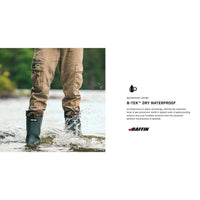 Baffin Mens Trapper Rubber Sport Boot (Arctic Rated)
Baffin's TRAPPER winter rubber boots will make you friends with your feet again. The Classic Trapper is Arctic Cold Rated to approximately -67F [-60C] in moderate to high usage. An unbeatable combination of warmth, comfort, and durability make the Trapper a perfect choice for those wet, all-day cold weather outings. Remarkably lightweight and completely waterproof, with built-in gaiter on top to seal out the elements; removable 7-layer inner liner transports moisture to keep you dry. The perfect boot for Fall/Winter/Spring; whether you're Fall Hunting, Ice Fishing or Snowmobiling...
 
Cold Comfort Rating:  Arctic Rated
Approximated Comfort Level:  -67F [-60C]
Baffin Arctic Rated Series Collection For adventurous pursuits in extreme cold temperatures. Arctic Rated cold-comfort is achieved with moderate to high activity and has been proven in the Arctic on our treks across Baffin Island.

Fit Tip: Mens Style, True to size 


UPPER: 
Fully molded Polar Rubber waterproof upper for cold climate performance
Nylon snow collar to protect from the elements


INSULATION:
Removable 7-layer inner liner transports moisture to keep you dry

Thermaplush soft, next-to-foot wicking layer for warmth
Form-fitting B-Tek Foam lining for comfort
B-Tek Heat lightweight, 4-channel hollow-fibre insulation for high-loft breathability in a broad range of temperatures
Vaporized Aluminum Membrane for energy reflection and heat regulation
PolyWool lining for moisture transfer and evaporation outside of fabric
Hydromax layering for improved moisture management
Diamond Net insulation for wind-resistant protection with a lightweight feel


BASE:
Fully molded Polar Rubber outsole for durability and maximized grip


PERFORMANCE TECHNOLOGY
Made for Canadian Winters!
Polar Proven Footwear
Mens Conviction Arctic Series Fall/Winter Boot
Fit Tip: Mens Style, True to size
Height: 13.75 in. [34.92 cm]
Weight: 7.38 lbs. [3.35 kg]
Fit Tip: True To Size
Cold Comfort Rating: Arctic
Comfort Rated: -76F [-60C]
Materials: Premium Inject-able Rubber
Color Stocked: Forest Green/Tan
Replacement Liner: [L8592A70]
BAFFIN HUNTING COLLECTION:
Baffin boots have been used by hunters, trappers and fisherman (Ice Fisherman) for over 30 years. Since the mid-eighties North Americans have relied on Baffin for warmth and waterproofing in the outdoors. Huntsmen, we have heard your call - we are proud to expand our Hunting Collection by launching new boots for the early & mid-season hunts. We know our boots already keep you warm in the tree stand, but we want to join you on the trail. Hunt with us. Year-Round.

BAFFIN CONVICTION COLLECTION:
Baffin Winterproof Materials. These boots are equipped to keep you warm, dry & comfortable in climates as severe as -60C/-76F.
A 5-layer removable inner boot system provides excellent thermal resistance & vapor transfer for long term performance & unparalleled comfort. A Waffle Insole placed on the GelFlex Mid-Sole & heel traps moisture, cushions & insulates the foot!
An aggressive self-cleaning tread pattern provides superior traction. Premium Rubber ensures both durability & Winter-Proof performance. Functional closure sytems provide excellent fit & easy adjustment. Timeless styling & a commitment to workmanship make the Advanced Cold Weather Series an excellent choice for serious Outdoor Enthusiasts!