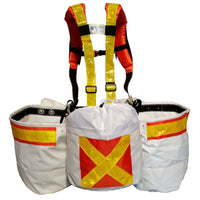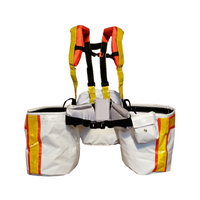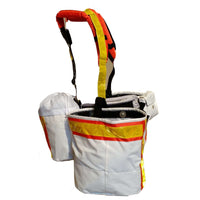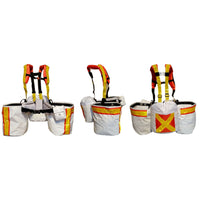 Bushpro Hi-Vis 3-Pouch Tree Planting Bag
All the same great properties of our 3 pouch classic design with a large amount of hi-vis added that is visible if you are upright, from the side or if you are planting a tree.
The Bushpro 3 Pouch Hi-Vis Tree Planting Bag is the #1 Best Selling Bag if ever visibility is a pre-requisite on your next job site. Made in Canada. Built for comfort, durability and maximum tree planter efficiency. The Bushpro tree planting bag system is the only choice for a serious tree planter. Beware of Imitations with over 30 years of technology and millions of trees in the ground your job depends on the quality and durability of the Bushpro Classic 3 Pouch Planting Bag.
Bushpro's new deluxe CINCH BELT Upgrades will allow you to tighten and loosen the belt rapidly. Other upgrades have included heavy duty dive belt webbing & higher grade nylon coverings along with a triple layer water proof foam laminated together to prevent movement and increase Harness Support.


THE HARNESS DESIGN:
Designed with any size tree-planter in mind, our bags can easily be adjusted for any size frame.

FITS 22" - 42" WAIST! NEW CINCH BELT 
The 2" Heavy Duty Dive Belt forms the basis of the new CINCH BELT Upgrade allowing you to tighten and loosen the belt rapidly adjusting to your clothing and how much load you wish to carry.

The 3-piece waist belt easily adjusts to a variety of sizes without bunching up or overlapping. 

Waist belt sewn to padding for better stability with heavy loads.
Firmer & thicker waist padding for superior support and comfort that won't retain water. Water and Tear resistant padding

Comes with 2 standard 14" buckets side buckets.

Round corners to reduce bag rub.

Rear bucket contains several pockets and a skirt closure to keep your stuff clean and dry. Can be used for trees.

EASY-FLOW flagging tape pocket (Easy Flow Flagging Tape Pocket is an option)

Bright yellow shoulder straps to increase visibility.

The 2" top-lock buckle with third catch to eliminate accidental popping

Chest buckle has a built in whistle


THE BUCKET DESIGN:
Made from the highest grade of vinyl and doubled up where necessary.

Hi-Vis Bucket Design for maximum visibility to meet or exceed all workplace safety standards. Rear Bucket has "X" Mark.

Buckets can be moved on the waist belt to the position that is most comfortable to your size.

Rear bucket has a draw string closer and can be used for trees or personal effects.

Small compartments are included for smaller items such as electronic devices, bug spray etc.

Every set of planting bags comes with a flagging tape dispensing pouch.

Stock buckets are plenty big at 14" deep...

For those who want them 18" Replacement Buckets are available at an additional price

Gear Up is not responsible for assembling buckets!

Standard configuration has 3 pouches.

  Available in a Classic 3 Pouch Version , 4 Pouch Version & a 3 Pouch Hi-Vis Classic 3 Format for maximum visibility.
Bushpro 3 Pouch Component Detachable Tree Planting Bag
Hi-Vis Reflective Hits on front and back and sides for maximum visibility
Weight: 4.2lb [2.0kg]
Color: White Bags, Yellow Shoulder Harness
1 Season Warranty
Two 14" side buckets
Rear bucket contains several pockets and a skirt closure to keep your stuff clean and dry.
Rear bucket can easily be removed if it's not wanted or changed to a stake bag.
One flagging tape dispensing pouch
Easy Assembly Required - Ready to Plant