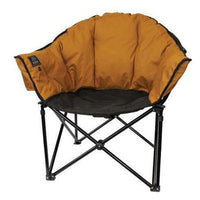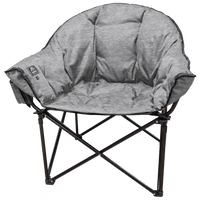 Kuma Lazy Bear Heated Chair Power Bank Included
The Kuma Outdoor Gear Lazy Bear Heated Chair features the exclusive ADDHEAT Control System. The Kuma Lazy Bear Chair has been our number one selling camp & leisure chair for over 2-1/2 years since it's inception into Canada. Now Kuma has integrated a heating system designed to keep your body warm and comfortable, all day (and all night), no matter the weather.
Portable Power bank included with chair

4 Control Activated Push Button located in right Armrest
Giving you heat control for; 2hr. / 4hr / 6hr / [ on/off]
Power Bank stored under the seat. 
Durable ribbed 600D polyester
Sturdy 3/4" black tube frame
Stabilizer feet
Padded back & arm rests
Insulated beverage holder and phone pocket
Carry bag included
Rated for 350lbs.
Weight: 15lbs. [6.80kg.]
Capacity: 350 lbs. [158kg]
Dimensions (H/W/D): 34" x 34" x 27" [86.36 x 86.36 x 66.04 cm]
Seat Height: 16" [40.64cm]
Material: Durable ribbed 600D polyester, Sturdy 3/4" black tube frame
Price includes 10,000 mAh Power Bank