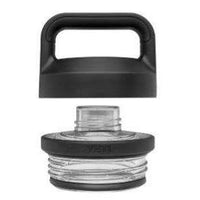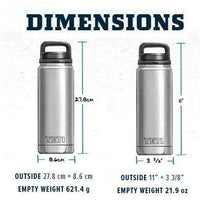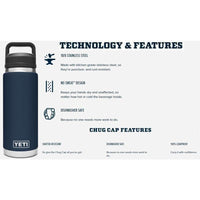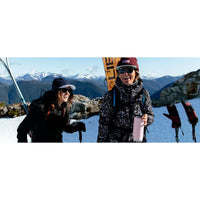 Yeti Rambler 26oz Bottle with Chug Cap
The tried & true Yeti Rambler Reusable Bottle now comes standard with a YETI Nation favorite — the Chug Cap. The Rambler 26oz [769ml] Bottle is the goldilocks of our bottle line, perfect all day, every day. With a quick twist, the TripleHaul handle comes off, exposing our shatter-resistant, dishwasher safe spout that allows for controlled gulps on the go. When it's time for a wash or refill, remove the entire cap to expose the bottle's wide mouth. Available in durable stainless, DuraCoat color, and Seasonal finishes, is dishwasher safe, and the double-wall vacuum insulation means your drink stays cold (or hot) no matter where the journey takes you. 
18/18 Stainless Steel: Made with kitchen-grade stainless steel, so they're puncture- and rust-resistant.

Double-Wall Vacuum Insulation: Keeps cold drinks cold and hot drinks hot until the last sip.
No Sweat Design:  Your hot drinks stay hot without burning your hands, and your cold drinks stay cold without leaving a mark.
Triplehaul Cap|Chug Cap: The 100% leakproof insulated cap with a 3-finger grip. A quick half-twist of the TripleHaul Handle to open and then you're good to go, making it easy to steal a sip without slowing down. Its classic spout allows for speedy gulps
Over-The-Nose Technology: Extra-wide opening for easy loading, drinking, and cleaning
Dishwasher Safe: Because no one needs more work to do.
Duracoat Color: Built for the wild, this color won't peel or crack

Important: 
The Chug Cap is not intended for use with carbonated, perishable, or hot beverages. 
Color: Assorted & Seasonal Selections
Available in Stainless and DuraCoat colors.
Volume: 26oz [769mL]
Dimensions: 3 3/8" × 11" [8.6 x 27.8 cm]
Weight Empty: 21.9 oz. [621.4 g]
Material: Durable 18/8 stainless steel and No Sweat Design
Chug Cap Lid
Great for Camping, Boating, Travel, Work and Office