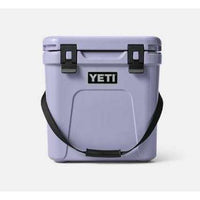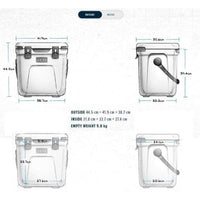 Yeti Roadie 24 Hard Cooler
The Yeti Roadie 24 Hard Cooler is a fresh take on a tried-and-true YETI favorite. It's 10% lighter, holds 20% more, and performs 30% better thermally than its legendary predecessor. With no drain plug, you can ditch excess water or ice with a quick flip. The all-new design accommodates an upright bottle of wine, allowing you to instantly up your picnic game. Plus, its slim design means it'll slide behind the front seat of the car, giving you quick access to ice cold drinks no matter how long the journey.
Please note: The Roadie 24 Dry Goods Basket and Roadie 24 Seat Cushion are sold separately.
Roto-Molded Construction - Evolved to be thinner and lighter for easier transport, while still incredibly tough.

NeverFail Hinge System - Interlocking design with hinge pins prevents snapping or breaking.

PermaFrost Insulation - Trusted in our Tundra® Hard Coolers, capable of keeping ice for days.

Quicklatch - Flexible, simple, and built for quick, one-handed cooler access.
Heftyhauler Handle - Designed for easy hauling and comfortable carrying.

Wine-Friendly Packing - Internal height is 33 cm –so (most) standard wine bottles fit upright, and that goes for two liter soda bottles as well.
The Tundra's little Bro, featuring the same durable materials and thoughtful design in a personal size
Outside Dims: 17 ½" x 16 ½" x 15 ¼" [44.5 x 41.9 x 38.7 cm]
Inside Dims: 12 ½" x 13 ¼" x 10 7/8" [31.8 x 33.7 x 27.6 cm]
Weight: 12.8 lbs [5.80 kg]
Volume: 6.34 gal [24 l]
Accommodates:

18 Cans of Beer - Using a 2:1 ice-to-can ratio by volume
11 Kilos of Ice Only