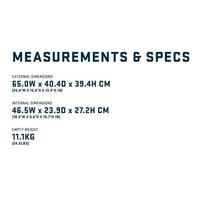 Yeti Tundra Coolers
The original & still the best heavy-duty cooler around, the YETI Tundra is a rugged, all-purpose, large cooler that comes in a variety of sizes for wilderness expeditions, hunting, fishing, tailgating... 
Like all YETI Coolers, it's built to be grizzly proof, making it a must-have cooler on your next overnighter in bear country

Roto-Molded Construction - Certified grizzly proof!

NeverFail Hinge System - full-Length, integrated, and self-stopping

T-Rex Lid Latches - keep your lid securely closed and are built to last

DoubleHaul Handles - you can't break the handles on a YETI

Vortex Drain System - leak-proof, insulated and self-draining

BearFoot Non-Slip Feet - precent sliding and keep cooler up off deck

AnchorPoint Tie-Down Slots - secure your YETI for the roughest rides

FatWall Design - thicker walls for maximum ice retention

ColdLock Gasket - locks out the heat while sealing in the cold

PermaFrost Insulation - for unmatched ice retention

Interlock Lid System - creates a form-fitting barrier

DryIce Compatible - 3x more cooling power; won't crack your cooler


NOTE: All Tundra models come standard with one dry goods basket.


SHIPPING NOTIFICATION: 
Due to Volumetric Weights for all  YETI 35, 45, 65, 75 Liter Coolers; shipping is cost prohibitive. If you want a freight quote please let us know or Pick Up In-Store is the only feasible option.
New Special Edition Colour: Seasonally
Sizing: 4 Stocked: 35, 45, 65, 75 Liter
Optional Sizing: Please Request Price & Delivery: 50, 105, 110, 125, 160 Liter Capacity

YETI 35 Tundra Cooler:
The ultra-portable model of our Tundra line, small enough to easily carry while still packing in the recommended 20 cans. It's the best road trip companion you'll ever meet — some people even refer to it as their YETI Car Seat.
21" x 16" x 15 1/2" [53.34 x 40.64 x 39.62 cm ]
Weight: 20lbs [9.07 kg]
Cans: 20
Liters: 27.25

YETI 45 Tundra Cooler:
This is our customers' top choice because of its versatile 26-can recommended capacity and easy portability. And of course this cooler is infused with that legendary YETI toughness.
25 1/2" x 16" x 15 1/2" [65.02 x 40.64 x 39.62 cm ]
Weight: 23lbs [10.43 kg]
Cans: 26
Liters: 35.58

YETI 65 Tundra Cooler:
This is a heavy-duty generalist, equally adept at keeping your catches cold in the field or serving as the drink-and-food hub for a tailgate, party, or other times of general revelry. This ice chest is plenty roomy, holding the recommended 39 cans, a keeper redfish or a small quartered deer.
30 1/2" x 17 1/2" x 16" [77.72 x 44.70 x 40.64 cm ]
Weight: 29lbs [13.15 kg]
Cans: 39
Liters: 54.13

YETI 75 Tundra Cooler:
The YETI Tundra 75 cooler has a recommended 50-can capacity that makes it ideal for keeping your family and friends fed and hydrated during a tailgate, BBQ, or day at the beach or lake. Wherever you take it, the grizzly-proof design of the Tundra 75 cooler will protect your vittles from burly party crashers. This heavy-duty cooler is also a top choice for spending a couple of days on the water. As a marine cooler, the rectangle design has the flexibility to serve in a number of positions on board: it makes the perfect replacement for a standard marine ice chest, fits under most leaning posts, and can also be used as a seat in front of most center consoles.
33 1/4" x 18" x 18" [84.84 x 45.72 x 45.72 cm ]
Weight: 34lbs [15.42 kg]
Cans: 50
Liters: 70.79