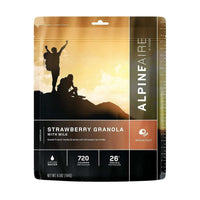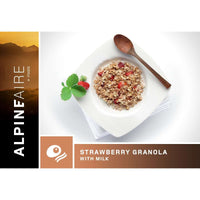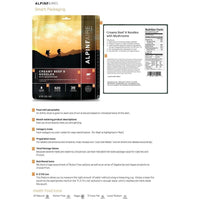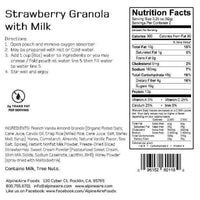 AlpineAire Strawberry Granola with Milk
AlpineAire Instant Meal Pouches are convenient, light weight and great-tasting Freeze-Dried meals, ready for you, when you're ready to eat.  The AlpineAire Foods Strawberry Granola with Milk offers 2 servings a nutritious breakfast enjoyed hot or cold of sweet French vanilla granola with strawberries and milk. Travel Far, Enjoy the Journey, Hike Far, Breathe Deep, Climb Mountains, Watch the Sunset... EAT WELL.
AlpineAire Dessert

American Cuisine

Great-tasting, nutritious meal is made from high-quality ingredients to fuel your adventure.


Health Canada Nutrition Facts Table 

720 Calories & 26g Protein per package - 2 Servings/Portions

Easy to prepare; just add 1 cup (8oz.|237ml) cold or hot water to ingredients or fold/crease and fill pouch to the "E-Z Fill Line" #5.0  without the need of a measuring cup

A 5+ year shelf life

A quick meal for backpacking, camping, boating or emergency preparedness.
'Sustaining Life No Matter Where'
Category: Breakfast
Dish: American
Health Canada Nutrition Facts Table:
Serves: 2 Person
Serving is considered a ½ Package [92g]
Packaged Weight: 6.5oz. [184g]
Calories: 360/Serving, 780/Package
Fat (g): 10.0
Carbs (g): 49
Protein (g): 13
Cholesterol (mg): 5
Sodium (mg): 160
GF: No
Dairy Free: No
Nut Free: No
Vegetarian: Yes
Soy Free: Yes
Vegan: No
Product of U.S.A.
Perfect For: Expedition Groups, Sailing Voyages, Outdoor Enthusiasts, Canoeing, Backpacking, Hiking, Cooking, Climbing, Boating, Survival Kits. Emergency Preparedness.
Ingredients:
French vanilla almond granola [organic rolled oats, cane juice, canola oil, crisp rice (milled rice, cane juice, salt, barley malt syrup), honey, cornstarch, almonds, natural vanilla flavor, sea salt, spices], instant nonfat milk powder, freeze-dried sliced strawberries, sweet cream powder (pasteurized sweet cream, skim milk solids, sodium caseinate, lecithin, bht), honey powder (spray dried with maltodextrin).
Contains: Milk, Tree Nuts
Introducing the redesigned AlpineAire Foods.
The new AlpineAire packaging has all new navigation to help consumers choose the right products for their needs, palette and nutritional requirements.
New graphics set the scene for their next adventure, representing the time of day you look forward to enjoying your tasty AlpineAire meal.
New packaging is color coded to quickly and easily identify each product category (Vegetarian, Beef, Pork, Chicken etc.)
New healthy food icons on the back of the pouch identify all the Health Canada benefits of AlpineAire.
Waterproof, re-sealable packages guarantees freshness.

Directions:
Open Pouch & remove oxygen absorber. Remove & Set Aside Chocolate Crumb Packet
Prepare in pouch or other suitable container
Add 1 cup (8 oz./237ml) hot or cold water to ingredients or fold / crease & fill pouch to "E-Z Fill Line" 5.0
Stir thoroughly then seal pouch or cover,
Enjoy