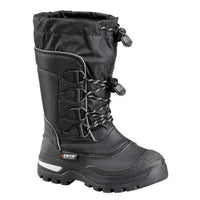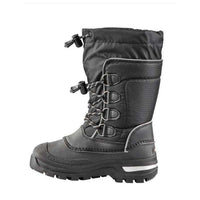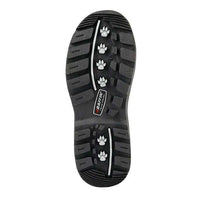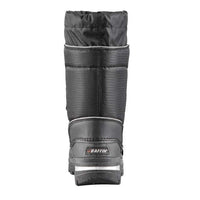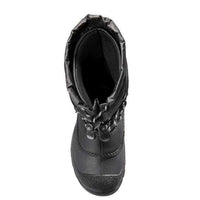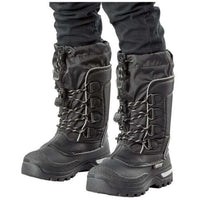 Baffin Kids Junior Young Pinetree Winter Boot (Tundra Rated)
Baffin Kids Junior Young Pinetree is part of Baffin's Young Kids Series Junior Footwear they are Tundra cold rated to approximately -40F [-40C] in active use, this group of boots will take you through the toughest winter activity while keeping you warm and managing the moisture you generate... PINETREE is equipped with the same comfort, warmth and quality as any of our adult boots. These lightweight, flexible boots allow for kids to take on the winter in any weather. Whether it's recess, the park or in your own backyard, your kids will have the same Baffin confidence you do. Snowmobiling, Ice Fishing, Skiing, Snowshoeing, Skating, Sledding...
Cold Comfort Rating:  Tundra Rated
Approximated Comfort Level:  -40F [-40C]
For experiences on snow-covered frozen terrain. Tundra Rated cold-comfort is achieved with high activity and has been proven by us on frozen Tundra, at latitudes and altitudes during Canadian Winters.

Junior Fit: 3, 4, 5, 6, 7, 8
"Right out of the box fit"


UPPER:
Ripstop nylon upper
Nylon locking snow collar to protect from the elements
D-Ring front lace fastening system with drawstring and toggle


INSULATION:
Durable Pro-Tech Microfibre Winter-Proof Insulated Upper

Unique removable 7-Layer Inner Boot System which provides excellent thermal resistance & vapor transfer for long term performance & unparalleled comfort.

Removable Comfort-Fit multi-layer inner boot system featuring:
Thermaplush™ soft, next-to-foot wicking layer for warmth

Form-fitting B-Tek™ Foam lining for comfort
B-Tek™ Heat lightweight, 4-channel hollow-fibre insulation for high-loft breathability in a broad range of temperatures
Vapourized Aluminum Membrane for energy reflection and heat regulation
PolyWool polyester wool blend for breathable warmth
Hydromax™ layering for improved moisture management
Diamond Net insulation for wind-resistant protection with a lightweight feel


BASE:
Polar Rubber outsole for maximized grip and longevity of boot at cold temperatures

The Base is constructed with Thermoplastic Rubber - TPR - with a technologically advanced IcePaw tread design that improves contact-point grip on ice and snow for superior traction!

ArticRubber compound in the shell to provide tough cold weather flexibility in cold environments.

 


PERFORMANCE TECHNOLOGY
Made for Kids Playing In Our Harsh Canadian Winters!
Polar Proven Footwear
Baffin YOUNG Kids Series - Junior Sizing:
Boys/Girls: 3, 4, 5, 6, 7, 8
Height: 11.75 inch [29.9 cm]
Weight: of Pair: 4.45 lbs [2.01 kg]* Based on a Junior Size 4
Fit Tip: True To Size
Cold Comfort Rating: Tundra
Comfort Rated: -40F [-40C]
Color: Black
Replacement Liner: [R0026BS]