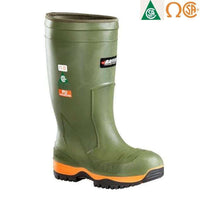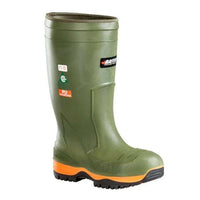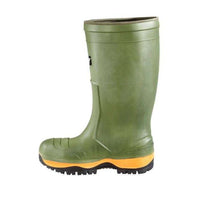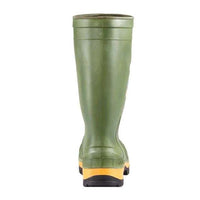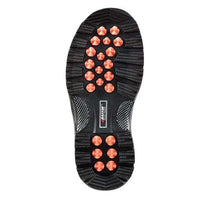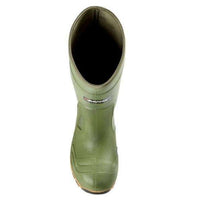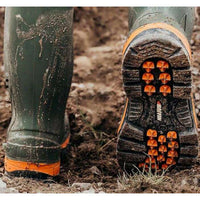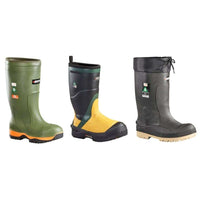 Baffin Mens Icebear CSA Work Safety Boot (Tundra Rated)
Specifically designed for the North American climate, Baffin ICEBEAR (STP) is made with comfort and superior performance in mind. The Icebear Safety Boots are Tundra cold rated to approximately -58F [-50C] in active use.  Featuring abrasion-resistant materials, the lightweight series offers maximum durability - making ICEBEAR (STP) key for protection and safety in all seasons.
Cold Comfort Rating:  Tundra Rated

Approximated Comfort Level: -58F [-50C]
For experiences on snow-covered frozen terrain. Tundra Rated cold-comfort is achieved with high activity and has been proven by us on frozen Tundra, at latitudes and altitudes during Canadian Winters.


Technology:
"Right out of the box fit"

CSA/ASTM/CE approved
Composite Safety Toe and Plate-> STP
ESR/EH rated


UPPER:
Lightweight abrasion resistant Thermal Polyurethane (TPU) molded boot
Thermal Polyurethane (TPU) compound is cold crack resistant
Wide fit through the calf and foot

Waterproof Level: B-Tek Dry Waterproof


BASE:
Composite Safety Toe and Plate
Polar Rubber outsole for maximized grip and longevity of boot at cold temperatures
Oil and acid resistant rubber outsole provides superior traction
Lug outsole design provides added traction
Slip Resistant Sole
GelFlex anti-fatigue midsole for shock absorption and rebounding
Anti-fatigue insole
Tested in accorance to Z195-14 for Coeffiency of Friction (COF) on Quarry tile/stainless steel/wet and dry surfaces, at room temperature and cold climate conditions


INSULATION:

Polyurethane (PU) insulation for thermal regulation


PERFORMANCE TECHNOLOGY
Made for Canadian Winters!
Polar Proven Footwear
Baffin Safety Footwear - Adult Sizing
CSA/ASTM/CE approved
ESR/EH rated
Composite Safety Toe and Plate
Height: 15.5 inch [39.4 cm]
Weight: of Pair: 9.46 lbs [4.30 kg] Based on a Size 9
External Forefoot Width: 5" [12.70 cm]
External Length: 12.50" [31.75 cm]
Fit Tip: Very Thick Liner/Insole - May want to Size Up 1 Size - But beware after time the foam liner packs down
Cold Comfort Rating: Tundra
Comfort Rated: -58F [-50C]
Color: Forest/Orange/Black
Replacement Liner: N/A
Forestry, Safety, Farm, Outdoor, Delivery, Mining, Utility