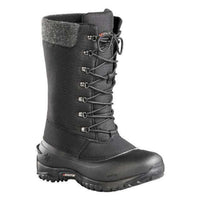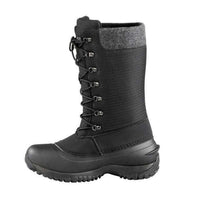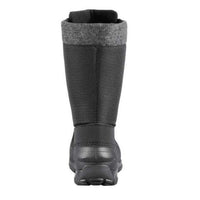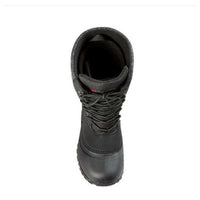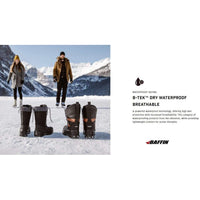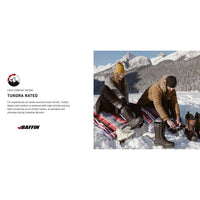 Baffin Womens Jess Boot Winter Snow Boot (Tundra Rated)
The Women's Jess Ultra Lite Series is the evolution of Baffin winter boots which are Tundra Cold Rated to approximately -58F [-50C] in active use. Weighing just about 2lbs per pair, you are able to go about your active lifestyle with comfort, confidence and agility without compromising style or protection! Get the most out of your outdoor adventures with the Jess boots from Baffin. This breathable, waterproof design offers long-lasting weather protection thanks to a removable insulated liner, simple speed lacing system and a durable rubber outsole for grip on slippery terrains. JESS represents an evolution of winter footwear – where comfort meets agility without compromising style or protection. 
Cold Comfort Rating:  Tundra Rated
Approximated Comfort Level:  -58F [-50C]

Women's Specific Fit

For experiences on snow-covered frozen terrain. Tundra Rated cold-comfort is achieved with high activity and has been proven by us on frozen Tundra, at latitudes and altitudes during Canadian Winters

Baffin Ultra Lite Series Collection 

Function meets fashion, Fashionable styling city, arena or outdoors.

Weighing in at about 2lbs per pair
Fit Tip: Ladies Style, Runs small, consider ordering a size up


UPPER: 
Speed-lace front fastening system

Waterproof breathable upper materials

Fashionable styling 

Full Bellows tongue
Faux Wool Top


INSULATION:
Removable Active-Fit multi-layer inner boot system featuring:
Thermawick comfortable, hi-wick next-to-foot lining material for greater breathability and improved thermal regulation
Form-fitting B-Tek Foam lining for comfort
B-Tek Lite proprietary aero-insulation blend that allows the inner boot to achieve greater thermal regulation while using less material.
B-Tek Heat lightweight, 4-channel hollow-fibre insulation for high-loft breathability in a broad range of temperatures
PolyNylon blend used as an outer layer for lightweight and breathable liner durability
Diamond Net insulation for wind-resistant protection with a lightweight feel


BASE:
Superlite Blend compound shell for a lightweight performance fit
LiteGrip Blend base for lightweight cushioning and grip
Polar Rubber outsole for maximized grip and longevity of boot at cold temperatures

Snowshoe Compatibility


PERFORMANCE TECHNOLOGY
Made for Canadian Winters!
Polar Proven Footwear
Womens Baffin Ultra Lite Series Winter Boots
Height: 13.00 in. [33.02 cm]
Weight: 4.77 lbs. [2.16 kg]

* Based on a Women's Size 7

Fit Tip: Ladies Style, Runs small, consider ordering a size up

Cold Comfort Rating: Tundra
Comfort Rated: 41F [5c] to the extreme of -58F [-50c]
Material: PU Coated leather & nylon
Highly abrasion resistant
Replacement Liner: [LITEWR04]

BAFFIN ULTRA LITE SERIES COLLECTION:
The Baffin Ultra Lite Collection is the evolution of winter footwear, where comfort meets agility without compromising style or protection. With highly breathable, waterproof upper materials and a body-heat moldable, removable liner with B-Tek Lite Insulation, this series guarantees weather protection in temperatures ranging from 41F/5C to -58F/-50C. Weight only 2 lbs per boot, these sit upon a Superlite shell which features a snowshoe ledge. Finally, our proprietary AirGrip starts in the Mid-Sole and is molded through the Out-Sole, the rounded out with Polar Rubber contact points for additional slip resistant grip on snow and ice.