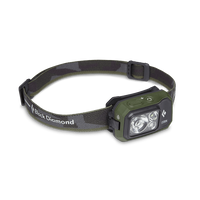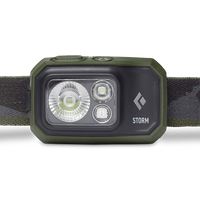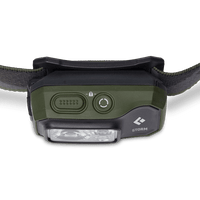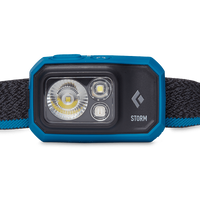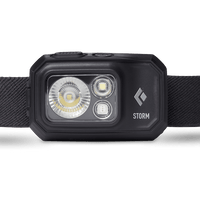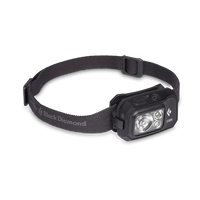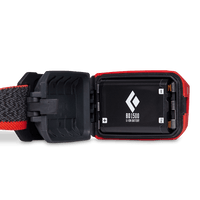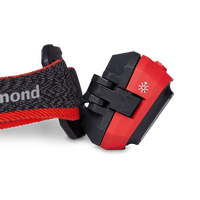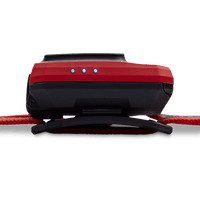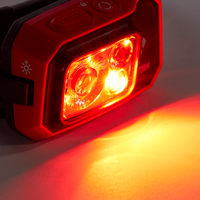 Black Diamond Storm 450 Dual-Fuel Headlamp 450 Lumens
For the technical consumer who wants the best, brightest, most waterproof, feature rich headlamp to use for fast paced, extreme environment activities then the new Black Diamond Multi-Purpose Dual-Fuel Rechargeable Storm 450 Headlamp is the choice. This user also has the need to run the lamp on alkaline batteries if caught away from a power source for a long expedition.
Dual-Fuel: Power with 3 AAA Alkaline cells (included) or the rechargeable BD 1500 Li-ion battery and charger (purchased separately) for maximum flexibility
450 Lumen max output

IP67: Waterproof-Tested to operate at least 1.0 meters underwater for 30 minutes
PowerTap Technology allows instant transitioning between full and dimmed power

Brightness Memory allows you to turn the light on and off at a chosen brightness without reverting back to default setting
Settings include full strength in proximity and distance modes, dimming, strobe, red, green and blue night-vision, and lock mode 
Multifaceted optical efficiency lens technology


Optional Items:
Max Lumens: 450
Battery Compatibility: Dual Fuel: 3AAA (Included)
Weight With Batteries: 4.2 oz [120 g]
Max Beam Distances: Max [85 m] ~ Low [8 m]
Max Burn Time: Low [150 Hr] ~ High [5 Hr] ~ Reserve [42 Hr]
Brightness: Variable
Beam Type: Flood & Spot
6 modes include bright white proximity, bright white distance, dimming, strobe, red proximity and red strobe.
Night-vision friendly Red/Green/Blue light can be activated without cycling through white lighting.
3-level power meter gives you an idea of how much juice is left.
Digital Lockout feature protects against accidental activations.
Waterproof IPX7 Rating: 7
Batteries: 3 AAA (included)
Recommended: Camping, Trail running, Climbing, Backpacking, Technical Approaches, Trekking, Skiing

Technologies:
Compact Design: 30% Thinner
Multifaceted optical efficiency lens technology
Dual Fuel Technology Maximum flexibility to utilize either Black Diamond rechargeable Li-Ion battery (sold separately) packs
or Alkaline cells (included)
Dual Switch User Interface An easy-to-use interface designed to simplify the experience with an easy ON/Off and a secondary switch to cycle between lenses; Providing a seamless solution for matching the best light output with the desired activity
PowerTap Technology makes for instant brightness adjustment settings. Instant transitioning between full & dimmed power
Brightness Memory allows you to turn the light on and off at a chosen brightness without reverting back to full or mid-power.
Digital Lock Out: To ensure your headlamp doesn't turn on in your pack we have included a quick, easy-to-use 3 second digital
lockout feature by holding down both switches
Burn Time: ANSI FL-Standard Commonly abbreviated as the ANSI FL1 Standard, the ANSI/NEMA FL 1-2009 Standard is a set of flashlight performance guidelines.

With the FL1 Standard, ambiguous marketing phrases are a thing of the past, and direct comparisons can be made between flashlights from different manufacturers. Adherence to the FL1 Standard is voluntary, although the vast majority of manufacturers have adopted the standard. Here's how the ratings are defined:



Light Output [Lumen]
Light output is a measurement of luminous flux using an integrating sphere. The unit of luminous flux, lumen, is a measurement of energy.
Peak Beam Intensity [Candela]
Peak beam intensity is a measurement of luminous intensity at the middle of the flashlight beam. The unit of luminous intensity, candela, is a measurement of energy.
Beam Distance [Meter]
Beam distance is defined as the distance from the flashlight where illuminance is equivalent to a full moon on a clear night.
Runtime [Hours]
Runtime is defined as the amount of time, rounded to the nearest quarter hour, until output drops below 10%.
Water Resistance [IPX Rating]
Water resistance is stated using the IP rating system, and three ratings are used.
IPX4 – water-resistant, or water splashed from all directions
IPX7 – water-proof, or temporary submersion at 1 meter for 30 minutes
IPX8 – submersible, or continuous submersion at some specified depth for 4 hours
Impact Resistance [Meter]
Impact resistance is tested with drops onto a concrete surface at the specified height with all intended accessories, including batteries, installed.