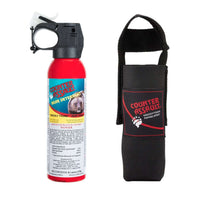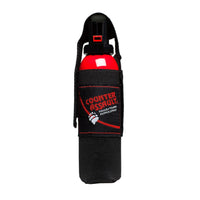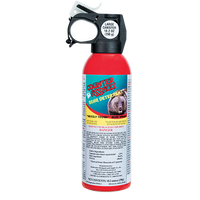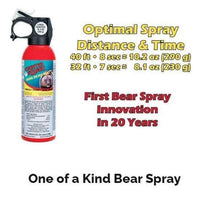 Counter Assault Bear Spray with Holster - 290g
Counter Assault can prevent animal-human conflicts using a non-lethal formula that does not permanently harm the animal. Only a small amount of Counter Assault is usually needed to arrest aggressive behavior. A short blast of Counter Assault will often be enough to scare an aggressive bear away, but if not, the high volume, high velocity cone-shaped spray of burning pepper (3 million Scoville heat units) is sure to stop an attack. [IGBC]  Interagency Grizzly Bear Committee
FREE NYLON HOLSTER WITH PURCHASE of a 290 gram Can!

Aerosol spray bear repellents affect breathing & irritate the eyes without causing any permanent damage to the bear!

9.8m / 32 feet spray distance – 9 seconds spray duration. 

In most cases this should be considered a highly portable SINGLE SHOT usage device!

Quick release safety tab prevents accidental discharge while allowing instant reaction.

Registration no. 22137 Pest Control Products Act

Pressurized Product - Restricted - Guarantee 0.98% Capsaicin

#1 Rated Bear Spray! Meets or exceeds all bear biologist and wildlife specialist recommendations.

  Interagency Grizzly Bear Committee


DUE TO THE NATURE OF THIS PRODUCT, CERTAIN SHIPPING RESTRICTIONS MAY APPLY!  

Ask our sales department  where product will be shipped.

Can Not ship outside Canada

Can Not ship via AIR

Ground Shipping Only ~ packages labeled as CONSUMER COMMODITY:

PRICE FOR SHIPPING IS COST PROHIBITIVE TO SOME DESTINATIONS

.
Brushed Aluminum Can: 10.2oz [290g]
Active Ingredient: 1% Capsaicin
Safety Tie-Wrap
Glow in the dark top tab
Safety Lanyard
Provides approximately 7 seconds of discharge in a shotgun blast pattern
Range:

Sprays to 30' 7.2 seconds (290g)
Sprays to 32' 9.2 seconds (290g)

Registration No. 22,137
Usage: Walking, Hiking, Camping
Holster Included

Technologies: Information
This is a deterrent and is not guaranteed to save your life but may help in certain situations!
A signed disclaimer must accompany each can sold.
Note that proper precautions must be taken when using, storing or traveling with this product!
The spray is carried easily by the air, so be sure to keep the wind at your back when letting off a test blast!
A holster is a very effective way to carry this product as it will do you no good if it is in your pack sack should you come into contact with a Bear!
In June of 1998, Counter Assault became the first bear deterrent pepper spray to achieve US Environmental Protection Agency registration. In December 1998, the Interagency Grizzly Bear Committee, a group consisting of various US Forest Service, state agencies, and other government personnel, awarded Counter Assault the 1998 Grizzly Bear Stewardship Award for significant participation in the research and development of bear deterrent pepper spray.