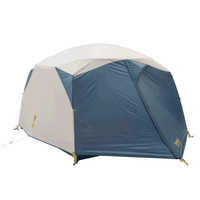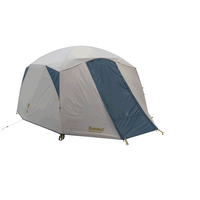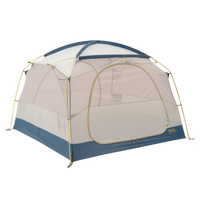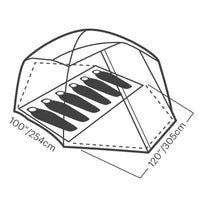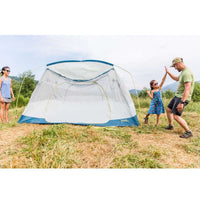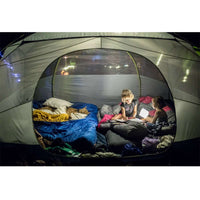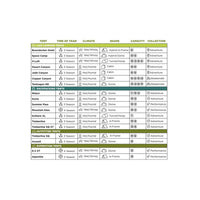 Eureka Space Camp 6 Tent (6 Person/3 Season)
Perfect for Long Weekend Family Camping Adventures. The New Eureka! Space Camp 6 Tent and Spacecamp Series has generous height & livable space that's out of this world!
Recreational Family (Free Standing)

Frame Geometry = partial 2 Pole Geodesic Configuration

2 Curved Brim Rods above each door dramatically increase wind stability & provides more head & shoulder room.

Two massive doors and vestibules provide weatherproof entrances and extra storage space

A Large 22.8sq.ft Frontal Vestibule & a Smaller 16.7sq.ft. Rear Vestibule.

3 High/Low Venting Scoops - Air Exchange System creates completely adjustable, easy to use ventilation options for all weather conditions.

7000 series aluminum frame is rugged, durable and designed to shrug off any storm

Complete with Easy to Pack Tent Duffel Bag!

2 Gear Lofts Included

10 strategic pockets provide gear storage galore; Cell Phones, Lights & other gear.

Eureka Camp Comfort System Compatible
Recreational Series Tents offer easy set up for weekend get-aways
Weekend Camping, Car Camping, Boat Camping, Backyard Camping, 3 Season
Eureka Freecountry Tent: It's camping, not glamping.
Eureka Lifetime Warranty! 

Consider the Space Camp 6 Tent Footprint for your Eureka Spacecamp 6P Tent.
Optional 9' Aluminum HA Height Adjustment Poles for Fly & Side Walls in Treeless areas.
Color: Legion Blue/Dawn Blue
Capacity: 6 Person/3 Season
Door/Vestibule: 2 massive doors and 2 vestibules
Vestibule: Large 22.8sq.ft Frontal Vestibule & Smaller 16.7sq.ft. Rear Vestibule
Tent Footprint: 14' 6'' x 10' [4.42 x 3.05m]
Sleeping Area: 8' 4" x 10' [2.54 x 3.05m]
Area: 83.3 sq. ft. [7.74 sq.m.]
Vestibule Area (x2): Front: 22.8 sq. ft. [1.53 sq.m.] ~ Rear 16.7 sq. ft. [1.11 sq.m.]
Centre Height: 6.3' [1.92m]
Minimum Weight: 16lbs 1oz [7.3kg]
Total Weight: 17lbs 5oz [7.85kg]
Packed Size: 10" x 25" [25.4 x 63.5cm]
FABRIC: Fly: 68D 185T Polyester Ripstop, Coatings: Waterproof 1500mm Taped seams
FABRIC: Floor: 68D 185T Polyester Taffeta, Coatings: Waterproof 1800mm Taped seams
FABRIC: Wall: 190T Polyester Taffeta Breathable
FABRIC: Mesh: 40D Polyester no-see-um MeshFRAME: 7000 Series 13mm Main Body Aluminum Poles & 11mm Aluminum Door/Fly Extenders with clips & pole sleeves
SET UP: Pin & Ring Assembly
Polyesters outlast Nylon fly sheets against UV damage!
Polyesters last longer & keep their shape better w/o material stretch
[Keep your tent out of the sun for long periods of prolonged use!]

Technologies:
Eureka Freecountry Tent: It's camping, not glamping.
Eureka! believes that the best lessons are learned outdoors, and dirty hands and salty hair are good for the soul.
We've taken a good hard look at what you really need while camping—spaciousness, durability, ease of set-up—and built a line of tents with thoughtful touches and unparalleled value.
So round up your family and friends and reach for the tent that helps you worry less and enjoy more.

CAR CAMPING - Pack it up and back it up
Pack the car, round up the kids, and swing by the grocery store—we're going camping.
Storage solutions, durable construction, and thoughtful design come standard on all of our car camping tents, giving you the peace-of-mind to enjoy what matters most.
Go ahead, embrace the adventure and cherish the time with family and friends.

Optional Polyester Nylon Footprint is available.
Placed under the tent prior to set-up, the footprint keeps the outer floor clean for packing and prevents wear & tear from roots and stones
The utilization of a heavy plastic sheet cut to your tent size including vestibules will protect tent floor bottoms from Ground Water, Condensation and tent site debris and obstacles.