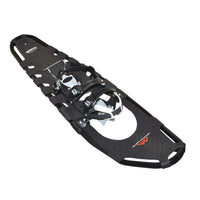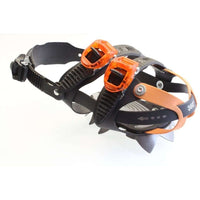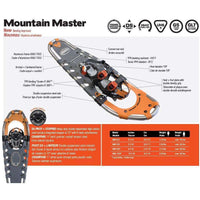 Faber Mountain Master Snowshoe [Max 300Lbs] 3 Styles
The Faber Mountain Master Snowshoe is a highly reliable expedition snowshoe designed to perform under extreme mountaineering conditions. This high-tech & high traction snowshoe will perform reliably in all types of conditions. 
Its "Arcatech" frame, double suspension pivot system & very aggressive crampons will let you master every type of rough terrain. 
The Quatro 360° binding is equipped with a 3 ratchet buckle system for a more comfortable and tighter fit. T
he foot & heel plates are made of double density anti-slip material that offer unparalleled comfort & control. 
The heel lifter will greatly help reduce the strain on your calves and facilitate your ascension on steep hills.

IDEAL FOR: High Mountain & Backcountry Expeditions
FRAME:  Black 
Powder Coating Frame reduces snow sticking

Lighter weight & strong 3/4" 6063-T832 Aluminium Alloy Tubing.

Arcatech Frame: Arched & Vertically Cambered provides better flotation & gait while walking & much stronger.

Curved rear end shape minimizes drag when walking.

Increased maneuverability when going backward & moving in mountainous areas!


DECKING: Dual Color "TPR" (Thermo Plastic Rubber) Decking [Orange/Carbon Grey]
Offers better snow traction than plastic decking

Resistant to -105f [-76c] Temperature Rating

Highly Abrasion Resistant

Treated against U.V. Rays.

New Black Decking for 2022


PIVOT: DS PIVOT + STOPPER
Heavy Duty 

Double Suspended Stainless Steel Pivoting Axle provides Full Rotation; 

high carbon steel rod; ease of walking & unloading snow from the shoe with each step!

Integrated Stopper at 70° w/ 6 rivet attachments made of high carbon steel allowing you to reverse direction withoug turning around.

Integrated Rotation Stopper at 70° reduces shin bone contact

Ease of walking & unloading snow from the shoe w/ each step!

FOOT & HEEL PLATES: Double density for better grip on your boot soles.

HEEL LIFTER: A tempered steel wire you flip under the foot to maximize traction during ascent in mountainous terrain thus saving energy.


BINDING: QUATRO R360° with Toe Box
TPR Binding with triple ratchet buckle system

Center: 2 Lever Sliding Ratchet Buckles

Heel:

Urethane 

Lever Ratchet for improved tightening plus a Double Density Grip Plate.


Made In Canada! Since 1870.
Faber 150 years of Tradition & Development
TYPE: High Tech Conventional Decking Snowshoe
MODEL: MM-824, MM-828, MM-930, MM1036
SHAPE: Elongated Bearpaw

SIZE/WEIGHT:
CAPACITY: [Decrease by 25% - 50% on unbroken trail or powder snow!]
8" x 24" [20cm x 61cm], 5.25 lbs [2.38 kg]
Max 150 lbs [68 kg] on packed trails.
8" x 28" [20cm x 72cm], 5.50 lbs [2.50 kg]
Max 200 lbs [91 kg] on packed trails.
9" x 30" [23cm x 76cm], 5.75 lbs [2.61 kg]
Max 250 lbs [113 kg] on packed trails.
10" x 36" [26cm x 92cm], 6.50 lbs [2.95 kg]
Max 300 lbs [136 kg] on packed trails.

FOOTWEAR: Should fit all sizes; Strap extenders maybe required for larger sizing!
RECOMMENDED FOR: 50% Trail/50% off trail. Excellent traction & stability when walking on almost any type of snow, be it light powder snow to heavy wet snow.
TERRAIN: High Steep mountainous terrain & trails. All, best on packed, crust & iced snow.
ACTIVITY: Expedition, Guiding, Work and Hiking
WARRANTY: 5 Year Guarantee

GUIDELINE FOR SIZE SELECTION:
When choosing your snowshoe be sure you factor; User weight + footwear, clothing & the weight of your pack & gear!