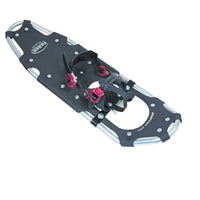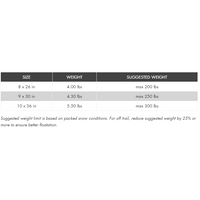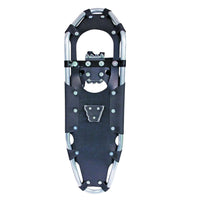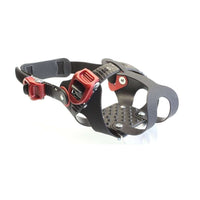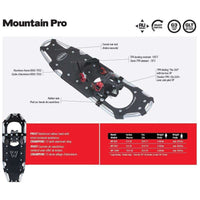 Faber Mountain Pro Snowshoe [Max 300Lbs] 3 Styles
The Faber Mountain Pro Snowshoes are a high quality, high tech snowshoe providing excellent traction & stability when walking on almost any type of snow, be it light powder snow to heavy wet snow. 
Probably our number one snowshoe year in and year out.
Regrouping the latest technologies from our 150 years of know how, we offer high performance snowshoes to meet any expectation, form the beginner to the more advance snowshoer. 
A great Snowshoe for Rental Fleets & Groups; rugged yet lightweight.

IDEAL FOR: Packed Snow and Work
FRAME: Silver
Standard Aluminum Frame 

Light weight & strong 7/8" 6063-T832 Aluminum Alloy Tubing

Curved rear end shape minimizes drag when walking

Increases maneuverability when going backward & moving in mountainous areas!


DECKING: Black "TPR" (Thermo Plastic Rubber) Decking [Black]
Offers better snow traction than plastic decking

Resistant to -105f [-76c] Temperature Rating

Highly Abrasion Resistant

Treated against U.V. Rays
 
PIVOT SYSTEM: RU PIVOT 
Reinforced Rubber Band w/ return torsional resistance providing partial rotation
The Rubber Axle - provides rotation & ease of walking & unloading snow from the shoe with each step


BINDING: TRIO 2LR
A TPR Binding with Dual Lever Ratchet buckle system providing a secure fit around boot to hold on better with good Lateral Control

Center: Lever Ratchet Buckle: better tightening

Heel: Lever Ratchet for improved tightening

Good Lateral Control 
TOE BOX: 3 Point Toe Box Contains Boot for a secure fit.
CRAMPONS: Provide Good Traction
Material: Aluminium Alloy

Front Claw: FC-7A ~ 4" x 3" x 1", 7 Teeth

Heel Claw: HC-6A ~ 2.5" x 3" x 3/4", 6 Teeth

 


Made In Canada! Since 1870.
Faber 150 years of Tradition & Development
TYPE: High Tech Conventional Decking Snowshoe
MODEL: MP-828, MP-930, MP-1036
SHAPE: Elongated Bearpaw

SIZE/WEIGHT:
CAPACITY: [Decrease by 25% - 50% on unbroken trail or powder snow!]
8" x 28" [20cm x 72cm], 4.00 lbs [1.81 kg]
Max 200 lbs [91 kg] on packed trails
9" x 30" [23cm x 77cm], 4.30 lbs [1.96 kg]
Max 250 lbs [113 kg] on packed trails
10" x 36" [26cm x 92cm], 5.50 lbs [2.49 kg]
ax 300 lbs [136 kg]on packed trails
FOOTWEAR: Should fit all sizes; Strap extenders maybe required for larger sizing!
RECOMMENDED FOR: 75% Trail/25% off trail. For the regular hiker, this recreational snowshoe is ideal for beaten trails. Mountain trails & Forest Areas
TERRAIN: All conditions, trails.All, best on packed, crust & iced snow.
ACTIVITY: Hiking, Intensive Use, Commercial Rental Fleet centers, Recreational
WARRANTY: 3 Year Guarantee

GUIDELINE FOR SIZE SELECTION:
When choosing your snowshoe be sure you factor; User weight + footwear, clothing & the weight of your pack & gear!