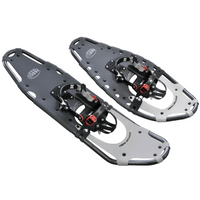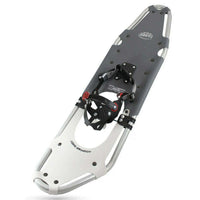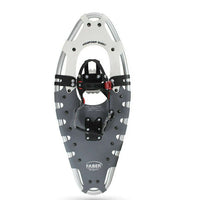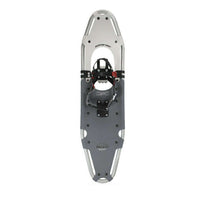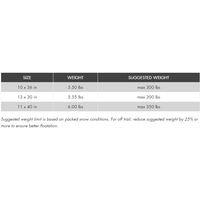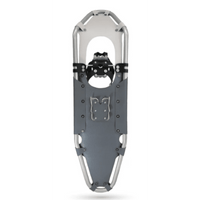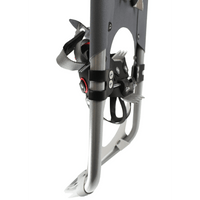 Faber Mountain Quest Snowshoe [Max 350Lbs] 3 Styles
This Faber Mountain Quest Snowshoe is a strongly constructed snowshoe designed for workers & is perfectly adapted for the backcountry. A great working snowshoe for bigger guys! 
An oversized aluminum tubing diameter to 7/8" to improve solidity & durability. 
The sturdy HD pivot system offers a free rotation. 
Included with the pivot, is a rotation limiter that makes walking backwards and jumping over obstacles easier. 
The decking, made of a Plastic & elastomer alloy decking offers a high resistance to very cold weather &  harsh terrain conditions.
IDEAL FOR: Rolling Terrain and Work 
FRAME: Charcoal Grey Coating 
Light weight & strong oversized 7/8"

6063-T832

 Aluminium Alloy Tubing.

Curved rear end shape minimizes drag when walking.

Increases maneuverability when going backward & moving in mountainous areas!
 
DECKING: Dual Color "TPR" (Thermo Plastic Rubber) Decking (Tan/Charcoal) 
Better snow traction than plastic decking

Resistant to -105f [-76c] Temperature Rating

Highly Abrasion Resistant

Treated against U.V. Rays

 


PIVOT SYSTEM: HD PIVOT + STOPPER
High Carbon Steel HD Pivoting Rod + 4 rivet attachments provides full rotation; ease of walking & unloading snow from the shoe with each step!

Stopper made of high carbon steel allowing you to reverse direction without turning around.


BINDING: TRIO HDR
Center: Lever Ratchet Buckle: better tightening

Heel: Lever Ratchet for improved tightening

Very Good Lateral Control 


TOE BOX: 4 Point Toe Box Contains Boot for a secure fit.
CRAMPONS: Provide Very Good Traction 
Material: Aluminum Alloy

Front Claw: FC-7A ~ 4" x 3" x 1", 7 Teeth

Heel Claw: HC-6A ~ 2.5" x 3" x 3/4", 6 Teeth

 


Made In Canada! Since 1870.
Faber 150 years of Tradition & Development
TYPE: High Tech Conventional Decking Snowshoe
MODEL: MQ-1330, MQ-1140, MQ-1036
SHAPE: Elongated Bearpaw

SIZE/WEIGHT:
CAPACITY: [Decrease by 25% - 50% on unbroken trail or powder snow!]
13" x 30" [33cm x 76cm], 5.50 lbs [2.49 kg]
Max 300 lbs [136 kg] on packed trails
11" x 40" [28cm x 101cm], 6.0 lbs [2.72 kg]
Max 350 lbs [159 kg] on packed trails
10" x 36" [25 x 91cm], 5.50 lbs [2.49 kg]
Max 300 lbs [136 kg] on packed trails

FOOTWEAR: Should fit all sizes; Strap extenders maybe required for larger sizing!
RECOMMENDED FOR:50% Trail/50% off trail. Excellent traction & stability when walking on almost any type of snow, be it light powder snow to heavy wet snow.
TERRAIN: High Steep mountainous terrain & trails. All, best on packed, crust & iced snow.
ACTIVITY: Ascension, Work and hiking
WARRANTY: 3 Year Guarantee
GUIDELINE FOR SIZE SELECTION:
When choosing your snowshoe be sure you factor; User weight + footwear, clothing & the weight of your pack & gear!