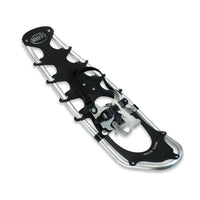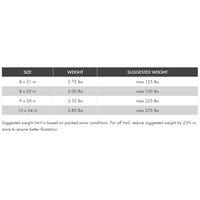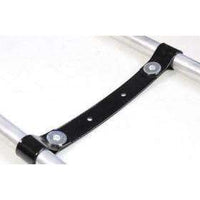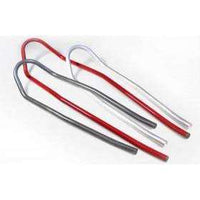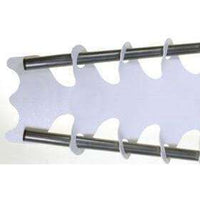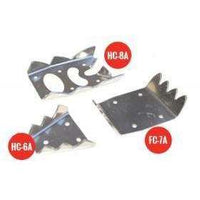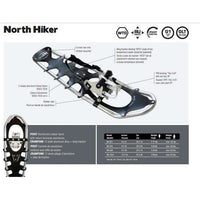 Faber North Hiker Snowshoe [Max 150Lbs] 2 Styles
For the beginner or causal hiker, The Faber North Hiker Snowshoe is light and easy to use. It is mainly designed to be used on packed snow. The simplistic design gives it many advantages such as lightness, maneuverability and snow on the deck is easily shaken off. All of this without compromising the robustness. An entry level product that will offer maximum performance and pleasure to its user. Moving to the Mountain Pro.
IDEAL FOR: Rolling Terrain & Leisure Activities

FRAME: Natural Color
Powder Coating Frame reduces snow sticking

Light weight yet strong 3/4" 6063-T832 Cambered aluminum frame increases flotation & rebound action

U-Frame Open; curved open rear end avoids dragging effect while walking.


DECKING: New "WTD" Wing Traction Decking is lightweight, sturdy, less expensive.
Black wing traction design [WTD].

Low temperature impact copolymer plastic that is cold & shock resistant.

Sturdiness is due to the decking wing torsion, giving extra traction & creating exit holes for snow

Resistant to -40f [-40c] Temperature Rating


PIVOT SYSTEM: REINFORCED RUBBER STRAP [RU PIVOT]
Reinforced rubber band with return torsional assistance

2 rivets attachment point

The Rubber Axle - provides rotation & ease of walking & unloading snow from the shoe with each step


BINDING: TRIO 2LR
A TPR Binding with Dual Lever Ratchet buckle system providing a secure fit around boot to hold on better with good Lateral Control

Center: Lever Ratchet Buckle: better tightening

Heel: Lever Ratchet for improved tightening

Good Lateral Control 


TOE BOX: 3-Point Toe Box Contains Cradle base and toe stopper for a secure fit.
CRAMPONS: Provide Good Traction
Material:

 

Aluminum Alloy

Front Claw: FC-7A ~ 4" x 3" x 1", 7 Teeth

Heel Claw: HC-6A ~ 2.5" x 3" x 3/4", 6 Teeth

 


Made In Canada! Since 1870.
Faber 150 years of Tradition & Development
TYPE: High Tech Wing Traction Decking Recreational Snowshoe
MODEL: NH-821, NH-825, NH-929, NH-1034
OTHER NAME: Recreational Lightweight
SHAPE: Elongated Bear Paw

SIZE/WEIGHT:
CAPACITY: [Decrease by 25% - 50% on unbroken trail or powder snow!]
8.0" x 21" [20cm x 53cm], 2.75 lbs [1.25 kg]
Max 125 lbs [57 kg] on packed trails
8.5" x 25" [20cm x 63cm], 3.00 lbs [1.36 kg]
Max 150 lbs [68 kg] on packed trails
9" x 29" [23cm x 74cm], 3.35 lbs [1.52 kg]
Max 225 lbs [103 kg] on packed trails
10" x 34" [25cm x 86cm], 3.80 lbs [1.72 kg]
Max 275 lbs [125 kg] on packed trails

FOOTWEAR: Mens Up to Size 13, Strap extenders maybe required for larger sizing!
RECOMMENDED FOR: 75% Trail/25% off trail.
TERRAIN: Mostly trails and a bit of terrain.
ACTIVITY: Recreational use. This model will make all of your excursions so much more enjoyable when starting out snowshoeing, no matter the snow conditions.
WARRANTY: 1 Year Guarantee

GUIDELINE FOR SIZE SELECTION:
When choosing your snowshoe be sure you factor; User weight + footwear, clothing & the weight of your pack & gear!