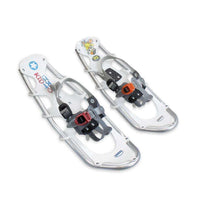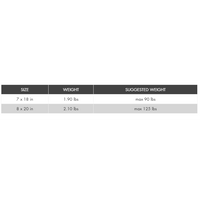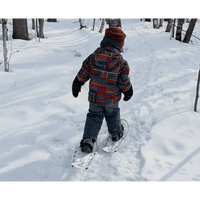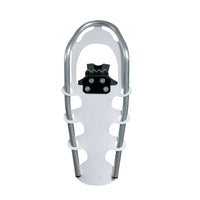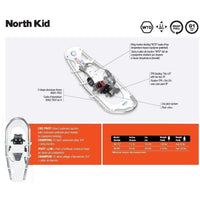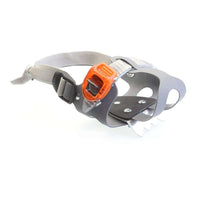 Faber North Kid Snowshoe [Max 90-125Lbs] 2 Styles
If you want your children to follow you on your snowshoe hikes and be as well equipped as you are, the Faber North Kid with its traction wing decking is the best option.
Light, sturdy with excellent grip, these snowshoes perform as well as the adult ones. Built with a lever ratchet binding with toe stopper, to facilitate the use, and with a "Live" full rotation pivoting system, to ease every steps, the North Kid is a real snowshoe on a smaller scale, not just a toy. 
Designed for kids but built with adult's snowshoes technology, the North Kid is lightweight, easy to use and durable.

IDEAL FOR: Rolling Terrain
FRAME: Grey Color
Powder Coating Frame reduces snow sticking

Light weight yet strong 3/4" 6063-T832 Cambered aluminum frame increases flotation & rebound action

U-Frame Open; curved open rear end avoids dragging effect while walking.


DECKING: New "WTD" Wing Traction Decking is lightweight, sturdy, less expensive.
White with kid print on rear of the wing traction design.

Low temperature impact copolymer plastic that is cold & shock resistant.

Sturdiness is due to the decking wing torsion, giving extra traction & creating exit holes for snow

Resistant to -40f [-40c] Temperature Rating

 


PIVOT SYSTEM: LIVE 
Full Rotation with flexible Reinforced urethane pivot riveted to copolymer decking

Ease of walking & unloading snow from younger kids!

 


BINDING:  TRIO LR
Center: TPR Binding wiht Single Lever Ratchet Buckle; better tightening, easy to use, durable

Heel: Mega duck buckle, light and easy to use

Lateral Control is good.


TOE BOX: 3 Point Toe Box Contains Boot for a secure fit.

CRAMPONS: 4 Teeth Aluminium Alloy
Front Claw: FC-4A

Heel Claw: No heel claw, traction wings

Traction is Good

 


Made In Canada! Since 1870.
Faber 150 years of Tradition & Development
TYPE: High Tech Wing Traction Decking Kids Snowshoe
MODEL: NK-718, NK-820
SHAPE: Elongated Bearpaw

SIZE/WEIGHT:
CAPACITY: [Decrease by 25% - 50% on unbroken trail or powder snow!]
7" x 18" [18cm x 45cm], 1.90 lbs [0.90 kg]
Max 90 Lbs [41 kg] on packed trails
8" x 20" [20cm x 50cm], 2.10lbs [0.95 kg]
Max 125 Lbs [57 kg] on packed trails

FOOTWEAR: Kids Boots
RECOMMENDED FOR: 50% Trail, 50% Off trail.
TERRAIN: Packed trails
ACTIVITY: Leisure
CONDITION: All conditions of snow
WARRANTY: 1 YEAR GUARANTEE

GUIDELINE FOR SIZE SELECTION:
When choosing your snowshoe be sure you factor; User weight + footwear, clothing & the weight of your pack & gear!