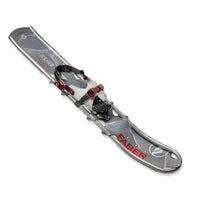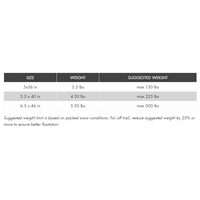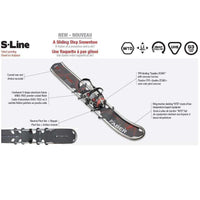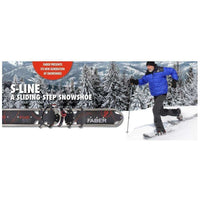 Faber S.Line Off Trail Snowshoe Ski [Max 325Lbs] 3 Styles
Designed for backcountry lovers, the Faber S.Line off Trail snowshoe-ski allows for a sliding step minimizing the effort in deep snow. The versatility of the 
S-Line
 will provide a gliding feeling when flying over flat surfaces and excitement while going downhill. Climbs and descents will be facilitated thanks to the wing traction system and to the skins that can be installed under the decking. The use of 
Faber
 poles with extra wide baskets will help maintaining your balance in off-trail situations. For optimal control while going downhill, a telemark kneeling position is to be adopted.
IDEAL FOR: Backcountry & Off Trail

FRAME: Silver Color
Powder Coating Frame reduces snow sticking

Light weight High Performance 7/8" [22mm] 6063-T832 Cambered aluminum frame increases flotation & rebound action.

  

Cambered U-Frame Open Shape Frame: Arched & Vertically Cambered provides better flotation & gait while walking, gliding & much stronger.

Curved rear end shape minimizes drag when walking.

A Sliding Step Snowshoe - A fusion of a snowshoe & a ski


DECKING: Mid Section "WTD" Wing Traction Decking is lightweight & sturdy.
Mid-Section WTD traction provides traction... while walking but allows sliding

Black decking with printed swirls accenting the wing traction design.

Sliding motion control with front and rear keels mounted on the under side of decking.

Low temperature [

-40f/ -40c] 

impact copolymer plastic that is cold & shock resistant.
Sturdiness is due to the decking wing torsion, giving extra traction & creating exit holes for snow


PIVOT: Live Reverse Pivot Live + Stopper
Reinforced urethane pivot riveted to copolymer decking rotation stopper at 70°; 

avoiding contact with shine bone and ease backward steps & jumps over obstacles.

Ease of walking & sliding & unloading snow from the shoe with each step!

Minimum toe lift required to exit snow in off-trail condition

Good lateral control, heel stays centered on the snowshoe

Suspension offering flexibility for comfort of the ankle

Minimizes rebound effect for walking & sliding


BINDING: Quatro 3ZE 360°
 

3 Zenith buckles with nylon webbing for fast, precise and light adjustment

 Moulded toe stopper with vertical ribs for excellent lateral control

 6.5'' moulded cradle base foot plate for optimum contact with boot sole

 One of the most appreciated binding for leisure

 Concave toe box for good lateral control, Optimum fit and control by the 360° action of the back strap


CRAMPONS: No Crampons Required - prevents sliding motion.
Traction is very good due to the WTD Decking

 


Made In Canada! Since 1870.
Faber 150 years of Tradition & Development
TYPE: High Tech Wing Traction Decking Sliding Step Snowshoe
MODEL: SL-536, SL-540, SL-646
OTHER NAME: Sliding Step Snowshoe
SHAPE: Ski Shape

SIZE/WEIGHT:
CAPACITY:
5.0" x 36" [12cm x 91cm], 3.75 lbs [1.70 kg]
Max 125 lbs [57 kg] on packed trails
5.5" x 40" [14cm x 102cm], 4.50 lbs [2.04 kg]
Max 225 lbs [91 kg] on packed trails
6.5" x 46" [17cm x 117cm], 5.50 lbs [2.50 kg]
Max 325 lbs [137 kg] on packed trails

FOOTWEAR: Womens Up to Size 10 & Mens Up to 13.
RECOMMENDED FOR:100% Off Trail
TERRAIN: All, best on & off trails as well as in Mountain condiditons
ACTIVITY: Mountain Snowshoeing.
WARRANTY: 3 Year Guarantee

GUIDELINE FOR SIZE SELECTION:
When choosing your snowshoe be sure you factor; User weight + footwear, clothing & the weight of your pack & gear!