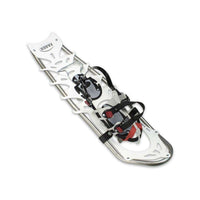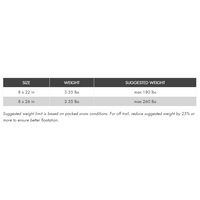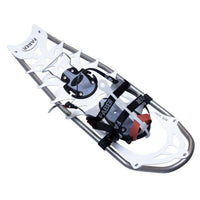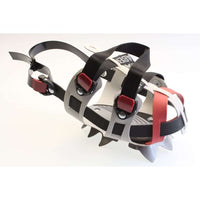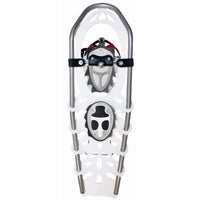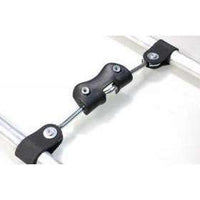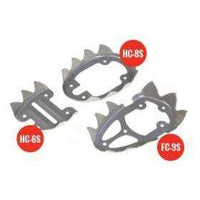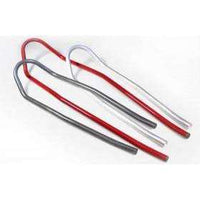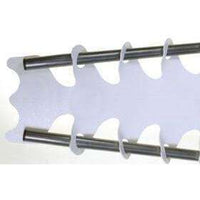 Faber Sommet Run Snowshoe [Max 260Lbs] 2 Styles
The Faber Sommet Snowshoe was created by blending the premiere features of our running & backcountry snowshoes in order to bring you the lightest mountaineering snowshoe on the market. 
The Sommet comes equipped with a superior binding, our lightest frame and decking combination, our best heel lifter and burly crampons. 
This snowshoe is built for day hikes in mountainous conditions and fitness hikes on icy and unpredictable terrain. 
If you get out on the mountainside often and you need the lightest possible snowshoe with the great traction and a heel lifter, the Sommet is the snowshoe for you!


IDEAL FOR: Fitness, All-Mountain

FRAME: Grey Color
Powder Coating Frame reduces snow sticking

Light weight yet strong 3/4" 6063-T832 Cambered aluminum frame increases flotation & rebound action  
U-Frame Open; curved open rear end avoids dragging effect while walking.


DECKING: New "WTD" Wing Traction Decking is lightweight & sturdy.
XLarge Sizing for optimal traction with less weight... while running

Cool white decking accents the wing traction design.

CNC Cut with double claws to each wing with "Active Crampons"

Low temperature impact copolymer plastic that is cold & shock resistant.

Sturdiness is due to the decking wing torsion, giving extra traction & creating exit holes for snow

Resistant to -40f [-40c] Temperature Rating

 


PIVOT SYSTEM: SPORT PIVOT + STOPPER 
Suspended Sport Pivot with full rotation plus stopper, made of a carbon steel rod (twice as strong and 40 % lighter than stainless steel).

2 rivets attachment point

Rotation limited at 70 degree to avoid contact with shine bone and ease backward steps and jumps over obstacles

Lighter steps by partial lift of the snowshoe and discharge of snow from deck

Minimum toe lift required to exit snow in off trail condition

Good l

ateral control, heel stays centered on the snowshoe
Suspension offering flexibility for comfort of the ankle
Optimizes crampons traction. 


BINDING:
 QUATRO 3ZE 360°
3 Lever Zenith buckles for easy in and out
4 points toe box for better lateral control
Optimum fit and control by the 360° action of the back strap
5.5" double density foot plate + 5" double density heel plate for better grip on the boot sole
Heel plate includes easy to use heel lifter
Our best binding for high mountain
3 Zenith buckles with nylon webbing for fast, precise and light adjustment
Concave toe box for good lateral control
Zenith buckle + adjustable rubber coated webbing back strap, easy to use and precise
3" Foot plate
Binding designed to fit small boots for maximum comfort, lightness and efficiency.


CRAMPONS:
 Provide Optimum Traction, light and durable
Material: Tempered steel
Front Claw: FC-9S; 9 teeth, tempered steel with powder coating, 15 x 10 x 3 cm.
Heel Claw: HC-8S; 8 teeth, tempered steel with powder coating, 13 x 10 x 2,25 cm
Extra Lateral traction + Active Traction Wings for superior grip.


Made In Canada! Since 1870.
Faber 150 years of Tradition & Development
TYPE: High Tech Wing Traction Decking Running Snowshoe
MODEL: SO 822, SO 826
SHAPE: Elongated Bearpaw
SIZE/WEIGHT:
CAPACITY:

[Decrease by 25% - 50% on unbroken trail or powder snow!]

Run 8" x 22" [20cm x 56cm], 3.35 lbs [1.37 kg]
Max 180 lbs [82 kg] on packed trails.
Run 8" x 26" [23cm x 66cm], 3.55 lbs [1.61 kg]
Max 260 lbs [118 kg] on packed trails.

FOOTWEAR: Should fit all sizes; Trail Shoes, Winter Footwear
RECOMMENDED FOR: 50% Trail 50% Off Trail
TERRAIN: Trails, Not recommended for Powder Snow.
ACTIVITY: High Mountain Snowshoeing, Running on Packed Trails Only
CONDITION: All, best on packed, crust & iced snow for Running.
WARRANTY: 3 YEAR GUARANTEE

GUIDELINE FOR SIZE SELECTION:
When choosing your snowshoe be sure you factor; User weight + footwear, clothing & the weight of your pack & gear!