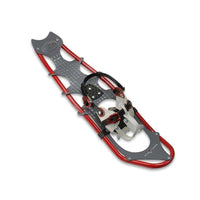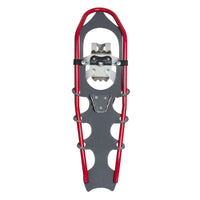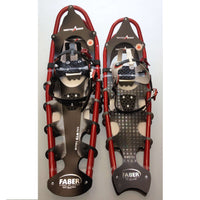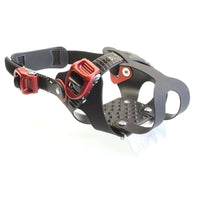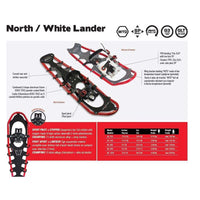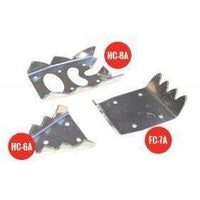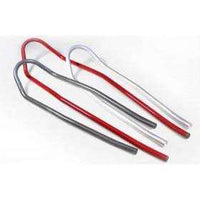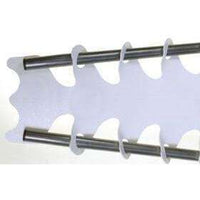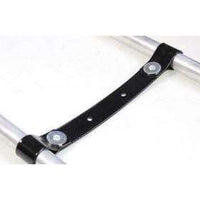 Faber White Lander Womens Snowshoe [Max 150Lbs] 2 Styles
The Faber White Lander is a Womens Specific Snowshoe in 2 sizes. A 
Similar look to the popular Mens Specific North Lander Snowshow. 
Stronger than conventional soft decking, this new generation of snowshoes is assembled with a new light and sturdy patented Wing Traction Decking, made out of low temperature impact copolymer (- 40 Celsius).
The sturdiness is due to the decking wing torsion, giving extra traction and creating exit holes for snow. 
Slimmer buckles & webbing with an attractive foil snowflake inspired decking created for women with the same great features as the North Lander.

Women's Specific Sizing
IDEAL FOR: Rolling Terrain & Leisure Activities
FRAME: Red Color
A narrow 7.5 inch snowshoe for women

Powder Coating Frame reduces snow sticking

Light weight yet strong 5/8" 6063-T832 Cambered aluminum frame increases flotation & rebound action (Smaller & Lighter Diameter than Northlander Snowshoe)

U-Frame Open; curved open rear end avoids dragging effect while walking.


DECKING: New "WTD" Wing Traction Decking is lightweight, sturdy, less expensive.
Grey/Silver Hot Foil Snowflake Pattern accents the wing traction design.

Low temperature impact copolymer plastic that is cold & shock resistant.

Sturdiness is due to the decking wing torsion, giving extra traction & creating exit holes for snow

Resistant to -40f [-40c] Temperature Rating


PIVOT SYSTEM: SPORT PIVOT + STOPPER  
Suspended Sport Pivot with full rotation plus stopper, made of a carbon steel rod (twice as strong and 40 % lighter than stainless steel).

2 rivets attachment point

Rotation limited at 70 degree to avoid contact with shine bone and ease backward steps and jumps over obstacles

Lighter steps by partial lift of the snowshoe and discharge of snow from deck

Minimum toe lift required to exit snow in off trail condition

Very Good lateral control, heel stays centered on the snowshoe

Suspension offering flexibility for comfort of the ankle

Optimizes crampons traction.

 


BINDING: TRIO 2LR  
White Binding vs Black Binding on the Mens North Lander

Ratchets & Straps are smaller, narrower & sleeker for the White Lander Wom

ens Series.
Center: Lever Ratchet Buckle: better tightening
Heel: Lever Ratchet for improved tightening 


TOE BOX: 3-Point Toe Box Contains Boot for a secure fit.


CRAMPONS: Provide Excellent Traction
Material: Aluminium Alloy
Front Claw: FC-7A ~ 4" x 3" x 1", 7 Teeth
Heel Claw: HC-6A ~ 2.5" x 3" x 3/4", 6 Teeth 


Made In Canada! Since 1870.
Faber 150 years of Tradition & Development
TYPE: High Tech Wing Traction Decking Women's Recreational Snowshoe
MODEL: HL-722, HL-726
OTHER NAME: Recreational Lightweight
SHAPE: Elongated Bear Paw

SIZE/WEIGHT:
CAPACITY: [Decrease by 25% - 50% on unbroken trail or powder snow!]
7.5" x 22" [19.05cm x 55.88cm], 2.75 lbs [1.25 kg]
Max 125 lbs [57 kg] on packed trails
7.5" x 26" [19.05cm x 66.04cm], 2.90 lbs [1.27 kg]
Max 150 lbs [68 kg] on packed trails

FOOTWEAR: Womens Up to Size 10, Strap extenders maybe required for larger sizing!
RECOMMENDED FOR:50% Trail/50% off trail.
TERRAIN: All terrain & trails
ACTIVITY: Recreational use. This model will make all of your excursions so much more enjoyable, no matter the snow conditions.
WARRANTY: 3 Year Guarantee

GUIDELINE FOR SIZE SELECTION:
When choosing your snowshoe be sure you factor; User weight + footwear, clothing & the weight of your pack & gear!