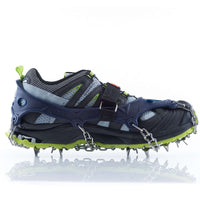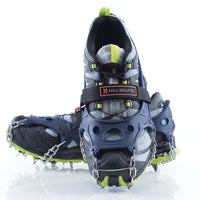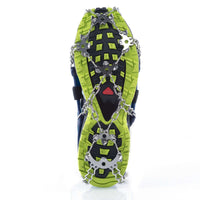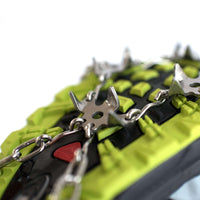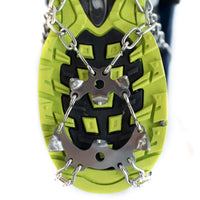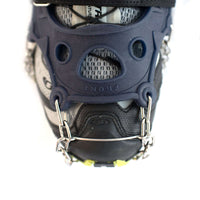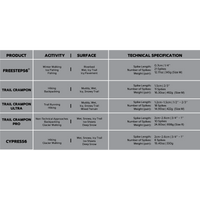 Hillsound Trail Crampon Ultra
Are you into trail running, hiking or fastpacking and looking for a lightweight, reliable and comfortable option when moving across as well as up and down mountains? Then the Trail Crampon Ultras are your choice. They are used by athletes as well as outdoor enthusiasts and give you the confidence to focus on your performance and experience rather than worrying whether or not your next step will be a slippery one! These crampons are US Patented and built to last - covered by a two year limited warranty.
Versatile:

 

Can be combined with trail running shoes, hiking shoes, hiking boots and insulated boots
Reliable & durable:

 

Grip on packed snow and ice (up hill and down hill) enabled by 18 stainless steel spikes including three 2/3 inch spikes on the heel. Also equipped with double link side chains, steel toe bail and high quality elastomer harness
Secure fit:

 

Velcro strap across the foot 
Carry bag included:

 

A convenient puncture-proof carry bag for storage before & after your adventure
2 Year Limited Warranty.
Carry  Bag Included.
Color: Blue
Sizing: XS to XL
Weight: Size M (pair) 14.9 oz [422 g]
Materials: Stainless steel spikes, Stainless steel chains (double link sides), Stainless steel toe bail, Elastomer harness
Spikes: Length: Length: 1/2" - 2/3" [1.2 - 1.5 cm], Number of spikes: 18
Recommended Use: Trail Running, Hiking / Backpacking, Fastpacking
Product Fits: Casual Shoes, Trail Runners, Hiking Shoes (Flexible Soles), Hiking Boots (Rigid Soles), Insulated Boots (Winter Boots, Waders)