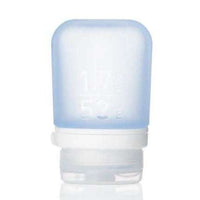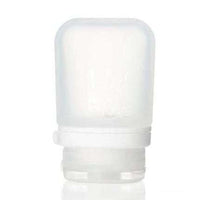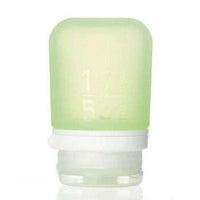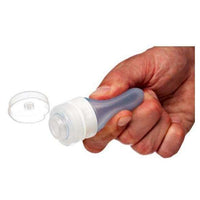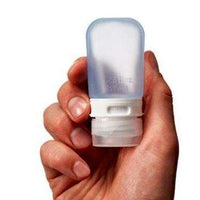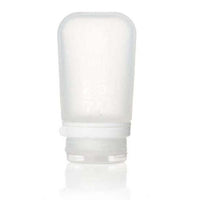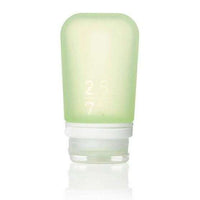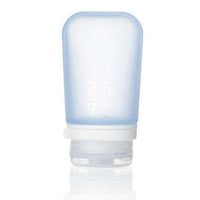 Humangear Gotoob Liquid Transporter: Small & Medium
Available in individual Small and Medium Size Bottles (Large Special Order). This carry-on-approved humangear GoToob bottle makes it easy to travel with your favorite gels and lotions. The civilized liquid transport tube for traveling, outdoors, and much more. The soft, inverted design permits fast, easy dispensing with a "No-drip" silicone valve which keeps the cap clean. It has an integrated suction cup (2 oz.) which makes it great for shampoos or conditioners in the shower.


No-drip valve easily dispenses gels and lotions; large opening is easy to fill and clean, and an integrated rubber seal prevents leaks

Features a rotating collar and integrated labels so you can mark the contents as conditioner, shampoo, sunblock, lotion or soap; tightening cap locks collar in place

Bottle is sized to slip easily into pockets, bags, purses and other tight spots

Food-grade silicone bottle and polypropylene cap are 100% BPA free -- 100% PC-FREE.


Features:
The small is Carry-on approved. Food safe.  Mark the contents with a rotating collar to a window identifier (with popular contents such as "soap", "sun" etc.)
The medium has an integrated suction cup which makes it great for shampoos or conditioners in the shower.  Carry-on approved.  Rotate collar to window identifier of popular contents.
The Large has a Rotate collar to "soap", "sun", window identifiers and tighten cap to lock identifier window in place.  Food safe.
Colour: Assorted from supplier
Materials:
Tube: Silicone
Cap Valve: Silicone
ID ring and cap plastic: #5PP (polypropylene)
All materials: FDA food-safe, BPA-free, Phthalate-Free
Great for: Travel, Camping, Household, School,
Capacities:
Small: 1.7 fl. oz. [50ml]
Medium: 2.5 fl oz. [74ml]
Large: 3.4 fl oz. [100ml]
Dimensions (Length X Width X Height):
Small: 2 x 3.25 x 1.5 in. [50.8 x 82.55 x 38.1 mm]
Medium: 2 x 4 x 1.5 in. [50.8 x 101.6 x 38.1 mm]
Large: 2.25 x 4.5 x 1.5 in. [57.15 x 114.3 x 38.1 mm]
Dry Weights:
Small: 1.58 oz (45 grams)
Medium: 1.76 oz (50 grams)
Large: 2.29 oz (65 grams)