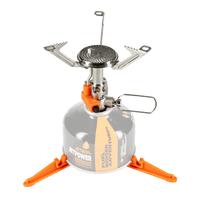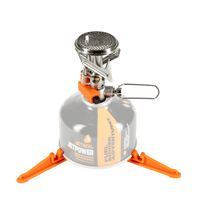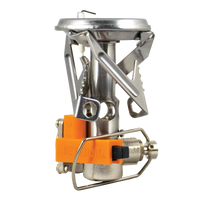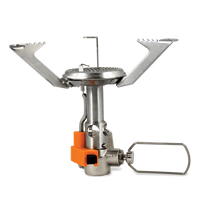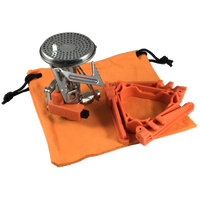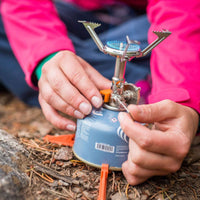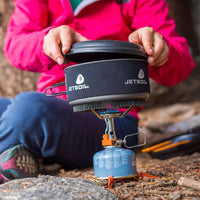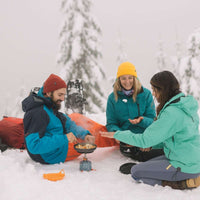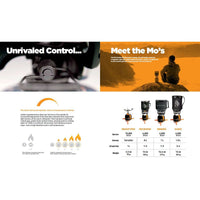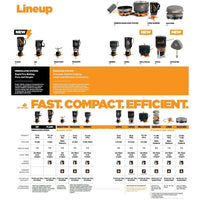 JetBoil MightyMo Stove
The MightyMo Updated Stove is Ultra-Stowable. Unbeatable Simmer Control. 
An ultra-stowable, single burner stove that unleashes the power of a professional range. 
At 3.3oz it's almost impossibly small but features a might 10,000 BTU Burner & 4 full turns of the regulator valve spindle for simmer control unlike anything else in the Backcountry.  
Sometimes powerful things come in small packages. 

Pack it up, pack it in. This ridiculously versatile and compact stove weighs in at a meager 3.3 oz. But lucky for you, it still packs enough punch to quickly reach a rolling boil, and the four-turn regulated valve gives it a soft enough touch for sautéing greens or simmering sauces.

Fast, Compact, Efficient.

Cooked to Perfection, Not Burnt Beyond Recognition

Unbeatable simmer control

Regulated for consistent performance down to 20F [-6C]

Convenient, reliable push-button igniter

Small, compact design

Improved efficiencies with compatible Jetboil Accessories

NOTE: Fuel canisters sold separately and not available for online purchase

JetBoil Personal Cooking System [PCS]:
REGULATED SYSTEMS: Precision Control Cooking. 
Regulated valves open up to the potential for gourmet cooking and expand cold weather capability.  JetBoil's regulated valves are the most advanced in the backcountry, enabling as little as two minute boils and complete fuel flow control for simmering sauces or gently sautéing your favorite recipes from home.
Type: Personal Cooking System
Persons: 1 - 2 Person
Color: Carbon
Usuage: Heating & Boiling Water, Melting Snow, Gourmet & Trail Cooking
Best Use: Backpacking, Backcountry, Canoeing, Ski Touring
Fuel Type: Canister, Fuel: Isobutane-propane
Piezo Electric (Automatic) Start: Yes
Item Weight: 3.3 oz [95 g] *
System weight excludes fuel stabilizer.
Stabilizer Weight: 0.9 oz (27 g)
Power: 10,000 BTU/h (3.0kW)
Boil Time: 3 minutes 32 oz [1 Liter] - In FluxRing Cooking Pot
Heating & Boiling Water, Melting Snow, Cooking
Dimensions: 4.1" x 3.75 - 6.5" [104 mm x 95.3 - 165 mm]

Technologies:
WHAT DOES FLUXRING DO?
This patented technology captures the heat of the burner and directs it into the contents of the FluxRing cup or pot, rather than into the air as waste. The FluxRing heat exchanger makes it possible to heat a conveniently shaped vessel with extremely high efficiency.
Speed Freaks + Combustion Geeks
At Jetboil, we're speed freaks, combustion geeks & obsessive engineers fighting the tyranny of inefficiency. From lab table to backcountry bivouac, we're committed to the principle that even the best solutions can be made better. Standing against the acceptance of "Good Enough" we look beyond the limits of current technology to redefine what's possible.