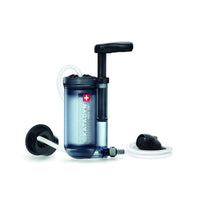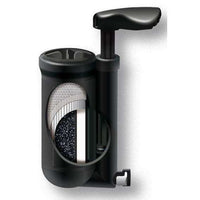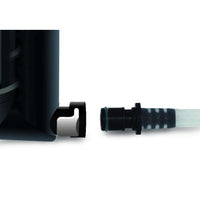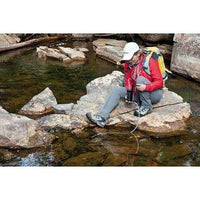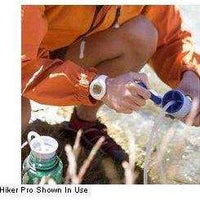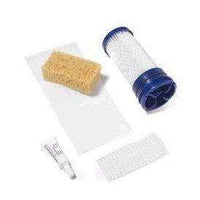 Katadyn Hiker Pro Microfilter
The Katadyn Hiker PRO comes with a removable filter protector to extend cartridge life in challenging conditions. When you are out on a long adventure, this compact filter can deliver a liter of fresh, enjoyable water from a lake, river or creek in only a minute. With the quick connect fittings, you can filter clean water with one hand directly into a bottle or pack reservoir. The filter protector can be cleaned in the field easily and effortlessly, thus guaranteeing quick access to safe drinking water even with turbid waters.
 Highest Rated & Highest Output Microfilter on the market! Best in the bunch by a long shot for Ease-Of-Use... Sources: BackPacker Magazine Field Tests. New Look, transparent design; same proven quality: The beloved Hiker Pro is the lightest filter in the Backcountry Series. 
Single-Action pump, No Cleaning Required

Guaranteed!

Microbiological Micron Rating = 0.2 to 1.0

Modular acorn prefilter & float keeps prefilter out of mud, reduces clogging

Removable filter protector extends cartridge life in challenging conditions.

Quick connect fittings make installation and removal of input and output hoses easy!

Also allows direct attachment to 1/4" drink tube of hydration packs

INCLUDES:

Filter Protector

Quick Connect Fittings

Prefilter

Universal Bottle Adapter

Carry Bag

Glass fiber filter - Removes bacteria, giardia and cryptosporidium

Suitable for cloudy water
PROTECTION LEVEL 2 MICROFILTER:
Removes most Microorganisms (Bacteria = EColi, Samonella. Protozoa = Giardia, Cryptosporidium)

For Protection against viruses, an EPA Registered disinfectent may be added after water is filtered:

Katadyn Micropur Tablets, Coghlans Tablets or Pristine Drops

Removable filter protector extends cartridge life in challenging conditions.
Size: OS
Weight: 11oz [312g]
Height: 6.5" [16.5cm]
Total: 3x6.5x2.4" [7.6x16.5x6.1 cm]
Hose Length: 36" [91cm]
Output: Up to 1 quart [1L]/min, [48 strokes/min]
Cartridge Capacity:
Up to 200 Gallons [750L] depending on water quality
Usage: For 1 to 3 people. Ideal for families or couples out for fun

Optional Items:
8014644 Katadyn Hiker Pro Replacement Filter

MICROFILTRATION METHOD
AntiClog Technology
129 square inches of pleated 0.2 micron glassfiber media.
Activated carbon core: reduces unpleasant tastes and odor from water
Surface area resists clogging! Guaranteed!

BACKCOUNTRY SERIES:
Backcountry Series products are ideal for camping and backpacking.
They are lightweight, compact and the easiest way to make safe water.
Backcountry Series products are the favorite choice for all-around use.
Camping, trekking and backpacking
Great for all-around use
Perfect for 1–3 persons
For clear and slightly turbid water
From huts to camp grounds

HOLLOW FIBER TECHNOLOGY: Hollow fiber technology acts as a physical barrier that prevents pathogens like Cryptosporidium and Giardia from passing through the membrane. Simply shake or swish in water to both clean and extend the life of the filter. Hollow fiber can work in a variety of temperatures and climates. However, the filter can be damaged if left to freeze. • Ultralight • Lower initial cost • Easy cleaning • Ultra-fast flow.