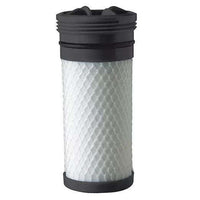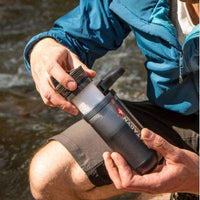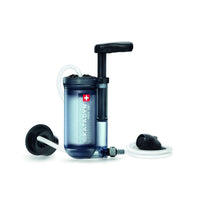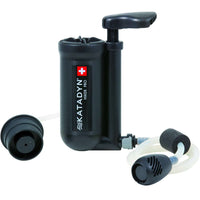 Katadyn Hiker Pro Replacement Filter
The Katadyn Hiker Pro Replacement Filters is a Glass-fiber element &  is pleated for increased surface area to handle silt & muddy water. 
Activated-carbon core adsorbs chemicals & pesticides to improve taste of water. 
Includes field maintenance kit with cleanable filter protector to extend cartridge life in challenging conditions. 
To clean filter protector, simply swish it in the water. 
Katadyn Hiker PRO replacement element works with Hiker Pro, Hiker and Base Camp filters as well as older PUR Hiker filters.


Needs replacing approximately every 200 gallons

Can be used in the original and Pro Series Hiker

An adapter can can be used to upgrade existing Hiker Filter Cartridges.


PROTECTION LEVEL 2 MICROFILTER:

Removes most Microorganisms (Bacteria = EColi, Samonella. Protozoa = Giardia, Cryptosporidium)

For Protection against viruses, an EPA Registered disinfectent may be added after water is filtered:

Katadyn Micropur Tablets, Coghlans Tablets or Pristine Drops

Removable filter protector extends cartridge life in challenging conditions.
Output:
Up to 1 quart [1L]/min, [48 strokes/min]
Cartridge Capacity:
Up to 200 Gallons [750L] depending on water quality
For use with the

Katadyn Hiker Pro Black Microfilter: (8018280)
Katadyn Hiker Pro Transparent Microfilter: (8019670)

MICROFILTRATION METHOD
AntiClog Technology
129 square inches of pleated 0.2 micron glassfiber media.
Activated carbon core: reduces unpleasant tastes and odor from water
Surface area resists clogging! Guaranteed!

BACKCOUNTRY SERIES:
Backcountry Series products are ideal for camping and backpacking.
They are lightweight, compact and the easiest way to make safe water.
Backcountry Series products are the favorite choice for all-around use.
Camping, trekking and backpacking
Great for all-around use
Perfect for 1–3 persons
For clear and slightly turbid water
From huts to camp grounds