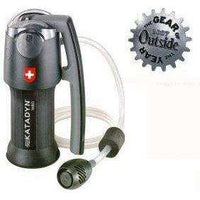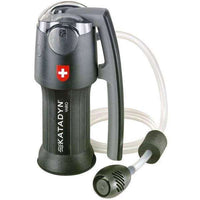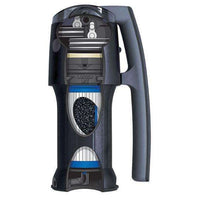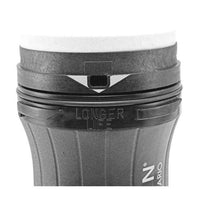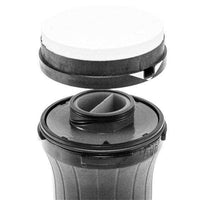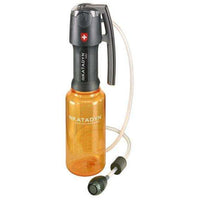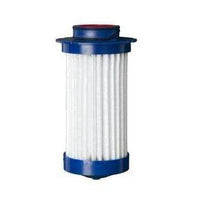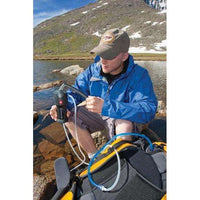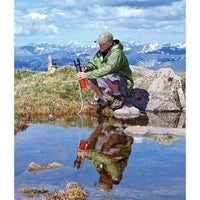 Katadyn Vario Microfilter
The intelligent Katadyn water microfilter; The Vario combines individual efficiency with the simplest possible handling. 
Anyone who needs up to two litres of drinking water per minute can use the glass fibre and active charcoal filter. 
If the water is extremely cloudy, the ceramic pre-filter can be fitted in a moment in order to extend the service life of the glass fibre filter. 
The Vario is compatible with most standard outdoor bottles & hydration bladders.

A 2 FILTER SYSTEM:

1: 0.3-micron, pleated glassfiber filter used to remove waterborne bacteria & cysts

2: A ceramic filter, engaged w/ a simple twist of the casing, is used to prefilter debris in dirty water away from primary filter

Vario is also a high-output system, filtering up to 2/Litres per minute in "fast flow mode"

Longer life mode" (ceramic filter engaged), unit produces 1 Litre per minute

Replaceable carbon keeps water tasting fresh & reduces chemicals, toxins & odors!

Perfect for individuals & group camping

Dual-piston technology minimizes the effort required to pump water through the system!

Attaches directly to standard W/M bottle (Not included) for filling;

Output hose accommodates hydration systems & large containers.

Multi-stage filtration system - Adjustable to "Longer Life" or "Faster Flow"
Suitable for extremely cloudy water
PROTECTION LEVEL 2 MICROFILTER:

Removes most Microorganisms (Bacteria = EColi, Samonella. Protozoa = Giardia, Cryptosporidium)

For Protection against viruses, an EPA Registered disinfectent may be added after water is filtered:

Katadyn Micropur Tablets, Coghlans Tablets or Pristine Drops
Includes 2 bags of replaceable carbon, prefilter, cleaning pad, lubricant & carry bag
Weight: 15oz [425g]
Dimensions: 7.5" x 4.0" [19 x 10cm]
Hose Length: 36" [91cm]
Output: Up to 2 quart [2L]/min
Cartridge Capacity:
Depending on water quality Glass Fiber: 520 Gal [2000L]
Carbon: 106 Gal [400L]
Usage: Small Groups, Camping, Hiking, Travel, Boating

Optional Items:
Katadyn Glassfiber Replacement Cartridge 8014933

MICROFILTRATION METHOD
AntiClog Technology
129 square inches of pleated 0.2 micron glassfiber media.
Activated carbon core: reduces unpleasant tastes and odor from water
Surface area resists clogging! Guaranteed!

BACKCOUNTRY SERIES:
Backcountry Series products are ideal for camping and backpacking.
They are lightweight, compact and the easiest way to make safe water.
Backcountry Series products are the favorite choice for all-around use.
Ceramic, glass fiber and carbon means that you choose fast flow and/or longer life based on water quality/water source, if water looks murky, then change dial to longer life and water will utilize ceramic disk prior to glass fiber. If water looks clear, set to faster flow and bypass the ceramic pre-filter. Carbon pre-filter is also replaceable. Fits directly onto water bottles, 2 liters per minute flow, ceramic is field cleanable, ergonomic pump action.