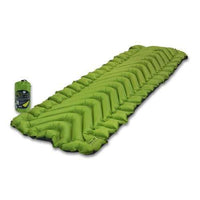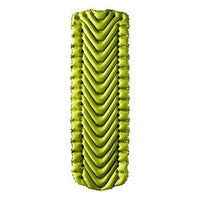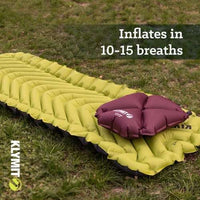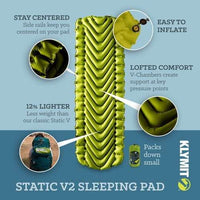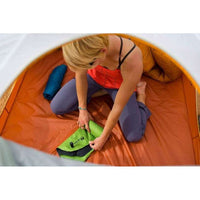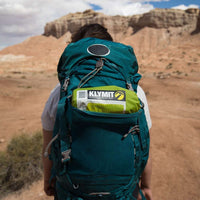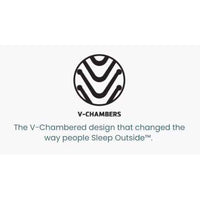 Klymit Static V2 Ultralight Sleeping Pad
Less Weight, Same Comfort. The freedom to shed weight and pack size without sacrificing comfort or durability. The Klymit Static V2 lets you count ounces without abandoning luxury. It offers the same exceptional comfort of the original Static V, in a pad that weighs just one pound and packs to the size of a large soda can. Weight is shed by using lighter fabric on top, while still retaining an ultra-durable underside. This pad is right at home on summer backpacking trips.
Body Mapping Technology: Our patented V-shaped design delivers support and comfort no matter how you sleep – on your side, stomach or back.
Side Rails: Integrated into the patterning and construction, they provide a secure, comfortable sleep by centering you on the pad and inhibiting air movement while tossing and turning.
Deep Weld Patterning: Unlike traditional pads that flatten the bag's fill, Deep Welds create expansion zones that allow your bag to fully loft beneath you for improved thermal comfort.
12% Lighter weight than the Static V Sleeping Pad

Inflates in approximately 10-15 breaths

Great for camping and backpacking take it anywhere anytime.
Size: Regular
Color: Light Green
Type: Rectangular Style
Model: Single
Equivalent R-Value: 1.3
ASTM R-Value test standard. 1.3
Season: Rating 3 Season.
Fabric: 30D Top/75D Bottom Polyester
Thickness: 3" [8cm]
Dimensions: [LWH]

Regular: 72 x 23 x 2.5 in [183 x 58 x 6 cm]

Long: 78 x 23 x 2.5 in [198 x 58 x 6 cm]

Pack Down: 8 x 3 in [20 x 8cm]
Weight: Regular: 18.7 oz [531g], Long: 22.4 oz [635g]
Comes with:

The Double V comes with a convenient, pump-integrated stuff sack for easy, rapid inflation.

Usages: Camping, Hiking, Backpacking, Canoeing, Kayaking, Cycling
What is a R-Value?
A R-value (resistance-value) is a metric used to rate how well a specific type of insulation can resist heat flow. The higher the R-value the warmer the pad.
What is the new ASTM standard?
The ASTM standard introduces a new test for R-value measurement that is being adopted by the camping industry.
In an effort to conform to the new ASTM industry standard while not confusing the current Klymit customer base, Klymit is listing both historical R-values and ASTM R-values on our website and packaging. ASTM R-values will be listed once the pad has been tested.