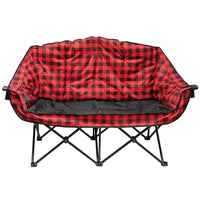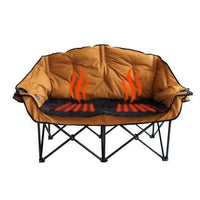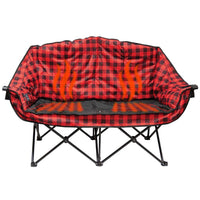 Kuma Bear Buddy Double Heated Chair Power Bank Included
The Kuma Outdoor Gear Bear Buddy Double Heated Chair features dual independent heated seats.  Get ready to get close & personal sharing this 2 seater! This one-of-a-kind dual chair is equipped with two separate ADDHEAT Control Systems and two stem glass holders on either side.  The New Two-person superbly comfortable folding double chair/couch. Durable Polyester Fabric and 3/4" Black powder-coated steel frame with stabilizer feet. One size fits all with an approximate weight capacity of 500 pounds. Padded back, seat, sides and padded arm rests.  Now Kuma has integrated a heating system designed to keep your body warm and comfortable, all day (and all night), no matter the weather.
 
[2] Portable Power banks included with chair

Power Banks are stored under the seats. 

4 Control Activated Push Button located in right & left Armrest
Giving you heat control for; 2hr. / 4hr / 6hr / [ on/off]

Two Person Capacity of approximately 500lbs. [227kg]

Durable 600D Heather Grey Polyester Fabric

Sturdy & Foldable 3/4" Black powder-coated tubular steel frame

Padded back, seat, sides and padded arm rests

2 Stem glass holders, 2 beverage holders

Carry Bag Included. 
. The Kuma Bear Buddy Double Chair has been our number one selling camp & leisure chair for over 3-1/2 years since it's inception into Canada. 
Sizing: OS
Weight: 22lbs. [9.97kg.]
Capacity: 500lbs. [227kg]
Dimensions (H/W/D): 38.5" x 59" x 24" [97.80 x 149.86 x 60.96 cm]
Seat Height: 16" [40.64cm]
Material: Durable ribbed 600D polyester, Sturdy 3/4" black tube frame
Usages: Outdoor Events, Camping, Cottage, Camp, Backyard BBQ'ing, Ice FIshing, Hunting,
Price includes two 10,000 mAh Power Banks