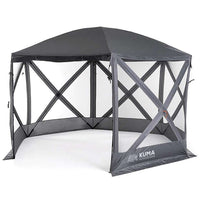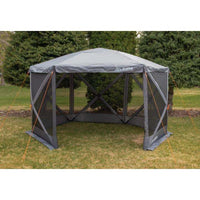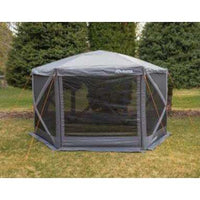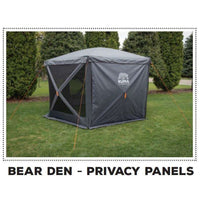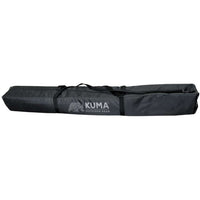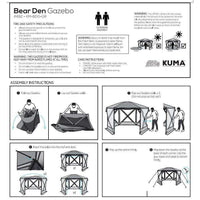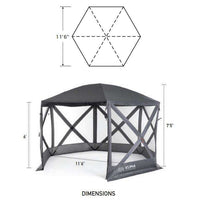 Kuma Bear Den Gazebo
Gather your friends and family in this lightweight quick set up Kuma Bear Den Gazebo. Big enough to fit a picnic table, you can keep having fun while being protected from the elements. Super easy to set up for one but less time with two. A Roomy interior with the high walls gives lots of room for a family picnic Dining Tent or out of reach of the pesky bugs. 
A single door retreat from the elements.

Hexagonal - 6 Sided Shape

Builds in 45 seconds, take down in 15 seconds.

High Vertical Screen Mesh Walls are pulled out for a more roomy interior

Waterproof 230T Poly Diamond Ripstop (1000mm / UV50+),

(3)11mm Assembled Fiberglass Poles making a lightweight shelter.

Weighs 26 lbs [11.7kg]

Bottom Mudflaps for weights

12 Steel Pegs and Guidelines for securing your shelter

Nylon Zippered Carry Bag for storing your shelter

Great at the Cottage, Camp, Campground and backyard

Optional Kuma Bear Den Gazebo Privacy Panels sold separately & individually.
In geometry, a hexagon is a six-sided polygon or 6-gon. The total of the internal angles of any simple (non-self-intersecting) hexagon is 720°.
Color: Grey
Doors: 1 Door
Shape: Hexagonal - 6 Sided
Weight: 26 lbs [11.7kg]
Dimensions (LWH): 11'6" x 9'10" x 7'5" [350.5 x 300 x 226.06cm]
Door Height: 6' [182.9cm] - Peak Height: 7'5 [226.06cm]
Fabric: 230T Poly Diamond Ripstop (1000mm / UV50+), Mesh Wall
Poles: (3) x 11mm fiberglass
Included: 12 steel pegs, guidelines, bottom mudflaps for weights
Zippered Carry Bag with Handles Included
Carry Bag Dims: 6' 1 x 9" x 9" [183 x 25 x 25cm]
Great for Camp, Campground, Cottage, Backyard
Optional Bear Den Gazebo Panels Available separately.