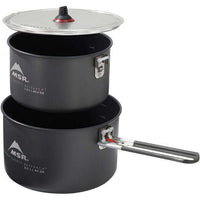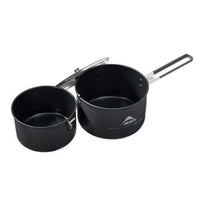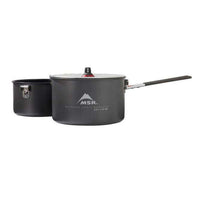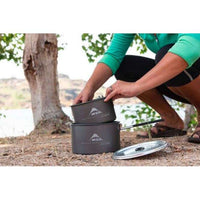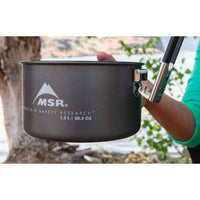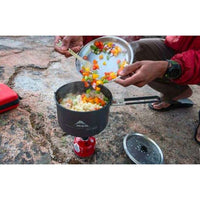 MSR Ceramic Nonstick 2-Pot Set
Compact nonstick set with Fusion ceramic, perfect for gourmet camp fare. For backcountry chefs who love to cook but hate to clean up, this 2-pot set is the best choice for nonstick performance at camp. It boasts our premium Fusion ceramic nonstick surface that's extra-tough, safe at high heat, and PFTE- and PFOA-free—letting you prep gourmet meals with peace of mind. Together, the 2.5 liter and 1.5 liter pots handle a range of camp fare with easy clean-up, and nest together to save room in your pack. Lightweight, with kitchen-quality performance, this set ensures you can bring your culinary ambitions into the backcountry.
Fusion Ceramic:

 

Ultra-durable nonstick coating handles abuse, is safe at high temperatures, and is PTFE- and PFOA-free, for superior, worry-free nonstick performance.
Cook Freely:

 

Easy clean-up makes this set perfect for complex gourmet meals on the trail.
Compact:

 

2.5 liter and 1.5 liter pots nest together saving precious pack space.
Efficient:

 

Lid doubles as a strainer, and aluminum disperses heat more evenly.
Includes:

 

(1) 2.5 L nonstick, hard-anodized aluminum pot, (1) 1.5 L nonstick, hard-anodized aluminum pot, (1) aluminum strainer lid, (1) Talon pot handle.
Size: 2 Sets

2.5L + 1.5L

Weight (Standard/Metric): 1 lbs oz [0.44 kg]
Diameter: 7.2 in [18.3 cm]
Packed Size (Standard/Metric): 7.75 x 5 in [19.7 x 12.7 cm]

Material: Ceramic Coated Aluminum, Aluminum Lid, Stainless Steel, Nylon, EPDM

Fusion® is a registered trademark of Whitford.

Great for: Back Country Camping, Camping, Scouting, Travelling
SIMPLE COOKING SERIES
The mainstay of most back country travelers, our Simple Cookware offers rock-solid, all-around performance for preparing a variety of simple, single- or multi-pot meals for small groups on the trails. Our Rugged Expedition Cookware & Stoves are built to deliver unquestionable performance in the world's most demanding environments - from alpine ascents to gritty adventure travel in the developing world.