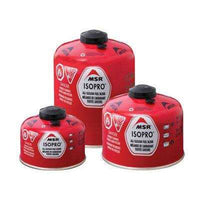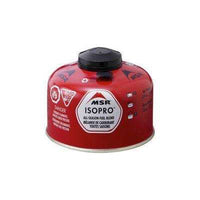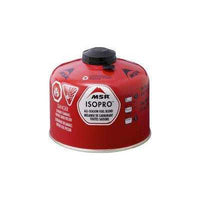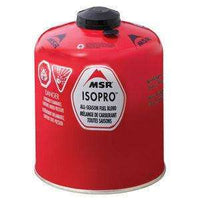 MSR Fuel Isopro Canister
MSR IsoPro is a performance-boosting, 80/20 blend of isobutane and propane, with the purest isobutane (5% or less n-butane) of any canister fuel. This clean-burning formulation maintains higher internal pressure at lower temperatures than standard butane/propane mixtures, delivering superior cold weather performance and more consistent output over the life of the canister. 
Due to hazardous materials shipping restrictions, we are unable to ship MSR Fuel Isopro. In Sore Pick Up Only.
3 Sizes availabe for your convenience. 

4 oz. canister has a smaller diameter for optimal fit inside the 1.0L Reactor Stove System.

8 oz. canister 

is short & wide providing good stability on uneven surfaces.

16 oz. canister is big enough for long trips trekking, canoeing and biking.

Improved Performance: 80/20 blend of isobutane and propane delivers superior performance throughout the life of the canister and in colder temperatures.
Clean-Burning: Zero-maintenance combustion.
Recyclable: Consult your local recycling center for regulations.


Fuel Blend: 80/20 blend of isobutane and propane
3 Sizes Available
4 oz. [110g] Iso Pro Canister Fuel
8 oz. [227g] Iso Pro Canister Fuel
16oz. [454g] Iso Pro Canister Fuel

MSR STOVES UTILIZING THE ISOPRO FUEL:
MSR WHISPERLITE UNIVERSAL STOVE
MSR POCKET ROCKET 2 STOVE
MSR WINDBURNER STOVE