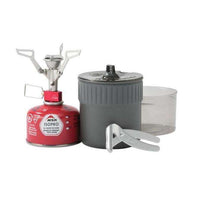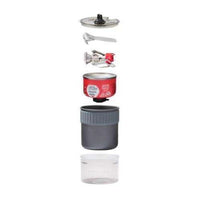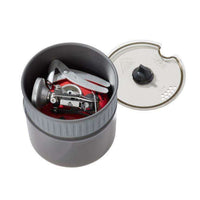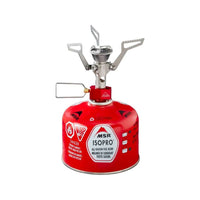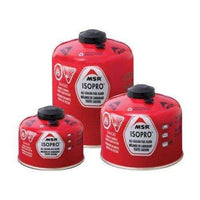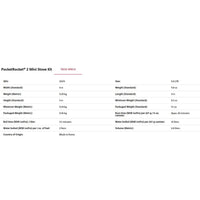 MSR PocketRocket 2 Mini Stove Kit
Ultra-compact cook and eat kit for solo backpackers, featuring the next-generation Pocket Rocket 2 micro stove. The PocketRocket 2 Mini Stove Kit defines big performance in a tiny package. An ultra-compact cook-and-eat kit for minimalist solo backpackers, it features the fast-boiling PocketRocket 2 stove and is perfectly sized to make hot water for one pouch meal or cup of coffee. For efficiency, its pot doubles as your eat-and-drink vessel and nests the stove and a 4 oz MSR fuel canister. Outside, the extra bowl comes at no packing penalty. When small packs are mandatory on everything from alpine objectives to bikepacking missions, this micro cook kit is your ally.

With the original and legendary PocketRocket stove at its foundation, the PocketRocket Stove Kit has everything you need to cook-and-eat for two in the backcountry. At its core, the simple, rugged stove delivers fast boil times at camp for quick meals after a long day. Two color-matching dish sets include our ultralight Insulated Mugs, DeepDish Bowls and folding sporks. Everything nests inside the 2 liter aluminum pot to create an impressively lightweight and space-efficient kit for backpacking duos. 
Ultra-Compact: Efficient nesting design saves precious space and slips easily into smaller packs; also makes a great back-up cook solution.
Ultralight: Whole kit weighs just 278 g (9.9 oz), keeping pack weight to minimum.
Fast-Boiling: PocketRocket 2 stove boils 1 liter of water in just 3.5 minutes.
Versatile: Pot's insulated grip allows it to serve as an eating and drinking vessel; pot lid doubles as a strainer; bowl is hot- and cold-safe.
Includes: PocketRocket 2 stove, .75 L hard-anodized aluminum pot, 16 oz. bowl*, clear lid* with straining ports, ultralight mini pot lifter, stuff sack. Room to nest 4 oz IsoPro fuel.


CONVENTIONAL CANISTER STOVES:
Pocket Rocket, PocketRocket Deluxe, PocketRocket2, Whisperlight Universal Hybrid Stove, Windburner Stove. Delivering big performance in light and compact designs, MSR canister stoves are engineered to make wilderness cooking quick and easy.  Each stove is engineered to satisfy a unique demand - from ultralight, fast-boiling performance to precision simmering capabilities.
MSR SIMPLE COOKING:
The mainstay of most back country travelers, MSR Simple Cooking stoves offer versatile, all-around performance for preparing a variety of meals on the trail.
Simple Cooking Series - Perfect for 2 Minimimalist Camping
Minimum Weight: 8.3oz (0.24kg)
Packaged Weight: 9.1oz (0.26kg)
Dimensions: Dimensions[LWH] 4" x 4" x 5" [10.2 x 10.2 x 12.7cm]
(Ispo Fuel sold separately)
Efficient nesting design saves precious space and slips easily into smaller packs; also makes a great back-up cook solution.
Includes:
PocketRocket 2 stove, .75 L hard-anodized aluminum pot, 16 oz. bowl*, clear lid* with straining ports, ultralight mini pot lifter, stuff sack. BPA-free
Room to nest 4 oz IsoPro fuel canister (sold separately)

BURN TIME STATS:
Burn time (MSR IsoPro) per 227-g / 8-oz. canister Appx. 60 minutes
Boil time (MSR IsoPro), 1 liter 3.5 minutes
Water boiled (MSR IsoPro) per 227-g canister 16 liters
Water boiled (MSR IsoPro) per 1 oz. of fuel 2 liters