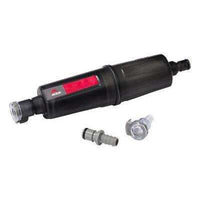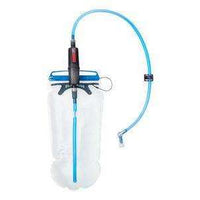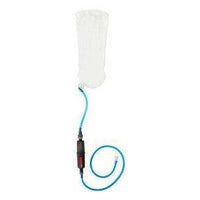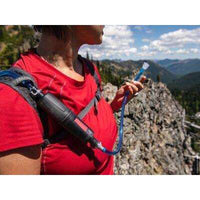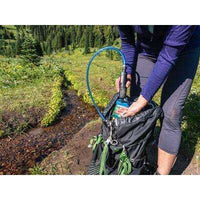 MSR Thru-Link Inline Microfilter
Turns any hydration reservoir into a filtration system, for clean water that keeps pace with you. Adding minimal gear to your pack, the Thru-Link inline filter is the simplest solution to clean water on the go. Just click it into your hydration reservoir and you're ready to filter as you drink and hike. Engineered for high-flow drinking, it makes it easy to stay hydrated on long day hikes and fast-paced missions. The filter is compatible with any reservoir system, and uses both hollow fiber technology and activated carbon to provide reliable, safe and taste-free water. At camp, the Thru-Link lets you use your reservoir as a gravity system for the luxury of pump-free filtration.
Keep Moving:

 

Don't stop to filter–just scoop and go. Engineered specifically for high-flow, easy drinking.
Two-Stage Filtration:

 

Fast-flow hollow fiber removes pathogens, particulate & microplastics; activated carbon reduces chemicals, tastes and odors.
Quick-Connect:

 

Compatible with any hydration reservoir system on the market.
Proven:

 

Used by the U.S. military for more than a decade; rugged ultrasonic welded housing for reliable durability.
Effective Against:

 

Bacteria (99.9999%), protozoa (99.9%) and particulate (dirt, microplastics). Meets U.S. EPA drinking water standards* and NSF protocol P231 testing standard for removal of bacteria and protozoa.
Sizing: OS
Weight: 2.5oz [0.07kg]
Dimensions: 1.6 x 7.5 x 1.6 inch [4.2 x 19 x 4.2 cm]
Effective against bacteria, chemicals & toxins, particulate & protozoa
Effective against viruses No
Filter Media; Hollow Fiber
Filter Pore Size: 0.2 micron
Flow: 1.5L/Min
Material: Hollow Fiber, ABS, Nylon