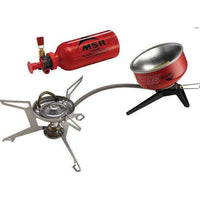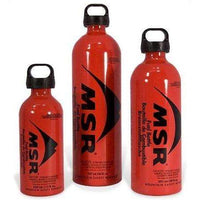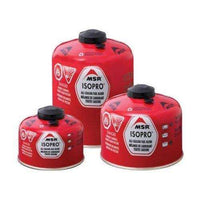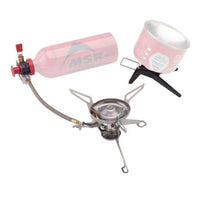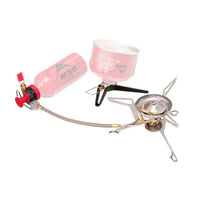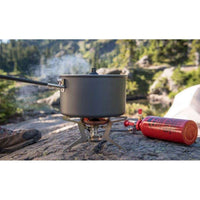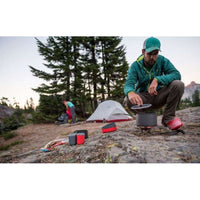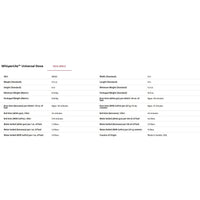 MSR Whisperlite Universal Hybrid Stove
The hybrid-fuel WhisperLite Universal Canister stove delivers the ease and simmering capabilities of canister fuel, and switches easily over to liquid fuels for longer trips, cold-weather, and international use. Our patent-pending AirControl technology is what really makes it unique, delivering outstanding performance with all compatible fuels. It's also the lightest stove in its class, offering excellent stability and easy maintenance, adding to the reasons this could be the only stove you'll ever need.


MSR WHISPERLITE UNIVERSAL HYBRID STOVE:
World's first optimal performance hybrid-fuel stove - the most effective stove ever made!

Hybrid-Fuel Performance: Patent pending AirControl technology creates the optimal fuel/air mix for top-notch performance with canister fuel, white gas, kerosene and unleaded gasoline.
Canister Liquid Feed: Delivers better cold weather and low-fuel performance with a more consistent output over the life of each canister. Canister stand Included.
Lightweight: Aluminum mixer tube, extra-stable stainless steel legs and refined design keep weight to a minimum.
Easy Transitions: Liquid and canister fuel couplers pair with fuel-specific jets for quick and easy transitions.
Field Maintainable: Self-cleaning Shaker Jet technology and redesigned leg assembly facilitate fast cleaning and even easier maintenance in the field.

Includes: Fuel pump, windscreen, heat reflector, small-parts kit, instructions, and stuff sack. (Fuel bottle not included) 
Fuel: Liquid Superfuel or Isopro Fuel Canister


You may want to consider the following replacement parts & Fuel:  
MSR Whisperlite Expedition Service Kit, MSR Standard Fuel Pump
MSR Arctic Fuel Pump Replacement, MSR Anuual Maintenance Kit
MSR Fuel Bottles, MSR Super Fuel , MSR IsoPro Fuel


CONVENTIONAL CANISTER STOVES:
Pocket Rocket, PocketRocket Deluxe, PocketRocket2, Whisperlight Universal Hybrid Stove, Windburner Stove. Delivering big performance in light and compact designs, MSR canister stoves are engineered to make wilderness cooking quick and easy.  Each stove is engineered to satisfy a unique demand - from ultralight, fast-boiling performance to precision simmering capabilities.

CONVENTIONAL LIQUID FUEL STOVES:
XGK EX, DragonFly, WhisperLite International, WhisperLite, WhisperLite Universal. MSR Liquid Fuel Stoves are the epitome of reliability.  These time-tested machines remain the mainstay of backpackers, mountain guides and outdoor chefs for their four-season performance, large-pot stability, multi-fuel capabilities and dependable engineering.

MSR SIMPLE COOKING:
The mainstay of most back country travelers, MSR Simple Cooking stoves offer versatile, all-around performance for preparing a variety of meals on the trail.
Simple Cooking Series
Conventional Liquid Fuel Stoves & Canister Fuel Stoves
Minimum Weight: 11.2 oz. (320 g)
Packaged Weight: 14.9 oz. (420 g)
Dimensions (LWH): 4" x 4" x 6" [10.1 x 10.1 x 15.2cm]
Made in Seattle, USA
(Fuel bottle sold separately)
(Isopo Fuel sold separately)

BURN TIME STATS:
Burn time (white gas) per 600ml / 20 oz. of fuel 110 minutes
Boil time (white gas), 1 liter 3.5 minutes
Water boiled (white gas) per 100 ml of fuel 4.4 liters
Water boiled (white gas) per 1 oz. of fuel 1.3 liters

Burn time (MSR IsoPro) per 227-g / 8-oz. canister Appx. 75 minutes
Boil time (MSR IsoPro), 1 liter 3.75 minutes
Water boiled (MSR IsoPro) per 227-g canister 15 liters
Water boiled (MSR IsoPro) per 1 oz. of fuel 1.8 liters

Burn time (kerosene) per 600ml / 20 oz. of fuel Appx. 155 minutes
Boil time (kerosene), 1 liter 4.4 minutes
Water boiled (kerosene) per 100 ml of fuel 5.3 liters
Water boiled (kerosene) per 1 oz. of fuel 1.6 liters