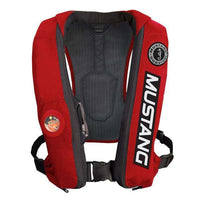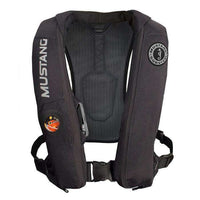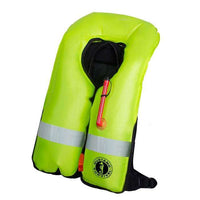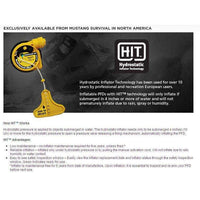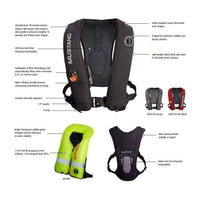 Mustang Survival H.I.T. ELITE 28 Inflatable PFD (Automatic Hydrostatic Activation)
Not everyone would take a PFD to a wind tunnel to prove its ability to push limits. But, we did. And the Mustang Survival Elite 28 Hydrostatic Inflatable PFD held its own. Built on a revolutionary 3D chassis, this lightweight co-pilot for your high speed adventures will stay put, let you move the way you want and need to, and helps you push your performance past good, to great.

Engineered for comfort: 3D chassis reduces drag at high speeds, wide shoulder system eliminates neck fatigue, wicking mesh liner improves all-day wearability, intuitive dual-side adjusters help you find your perfect fit, and an exclusive sleek inflation handle prevents snags (and allows you to inflate at any time). Hydrostatic Inflator Technology (HIT ) automatically inflates under water pressure; won't pop prematurely from rain, spray or humidity. Bright fluorescent yellow-green inflation cell provides 28 lbs of buoyancy (1.5 times buoyancy of standard foam PFD) when inflated and improves visibility in rescue scenarios.
INSHORE/COASTAL FLOTATION: Move how you want and stay protected. 
A popular choice for big-water adventurists, coastal cruisers, and general boaters seeking high buoyancy flotation. Specifically designed for activities where adventurers can see the shore on calm or in-land waters, our in-shore PFDs offer comfort without compromising on user safety, technology, or design.  Finally - Inshore flotation that keeps up with you on your every excursion!
 

Colors: Black & Red (Bass Competition Red)

Approval: TC - Type III Performance (Meets minimum buoyancy rating of 22.5 LBS)

Inflator Type:

 

HAMMAR
Aerodynamic 3D chassis reduces drag at high speeds


Shaped for optimum mobility and comfort

Wicking mesh liner

Discreet inflation handle reduces interference

28 LBS / 125 N of buoyancy when inflated

Backup oral inflation tube

Includes safety whistle

Status indicator window: green means it's ready to go

Bright fluorescent yellow-green inflation cell for improved in-water visibility

Intuitive side adjusters

D-ring for engine cut off switch

1.5'' Belt extender sold separately (Model # MA7637)

Optional Replacement Mustang Automatic Hydrostatic Re-Arm Kit "A" MA5183


Hydrostatic Technology Offers Reliable Inflation The Auto Hydrostatic Inflatable Personal Flotation Device (PFD) will only automatically inflate when submerged in 4 or more inches of water and not prematurely due to rain, spray or humidity
Approval: Transport Canada
Level: Type III Performance → Onshore/Coastal Flotation
Inflation: Hydrostatic
Inflator Type: HAMMAR
Color: Black Standard, Red Bass Competition
Sizing: Universal Adult
Weight: 2.25lbs [1.02kg]
Chest: (30" - 52") [76cm-132cm]
Weight: more than 80 lbs.
Age: over 16 years!
Inside/Inflated Color: Bright fluorescent Yellow-Green
Buoyancy when inflated: 124.5N (28lb) - 1.5 x standard foam pfd's
Recommend for: Fishing, Sailing, Boating
Ideal for fast moving boats & traveling at speed. Comfortable, slim, aerodynamic chassis.
A Favorite among Bass Fisherman who have high output activity & need max mobility.

Optional Replacement Mustang Manual Re-Arm Kit "A" MA5183
Use only Mustang Survival re-arm kits.
Use of other re-arm kits may result in improper operation or failure to operate and will void the product's warranty.
INFLATION TYPE
Hydrostatic Inflation: (With Manual Backup)

The Hammar Inflator is equipped with a hydrostatic valve that inflates the PFD bladder when submerged in 10cm (4inches) of water and gives unique protection against inadvertent inflation in stormy conditions.

No inadvertent inflation in case of rain, spray, splash or humidity
No service requirements for the Hammar Inflator for 5 years.

Mustang exclusive distribution rights to Hammer Hydrostatic inflators in North America.