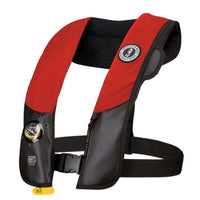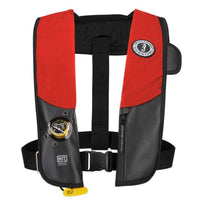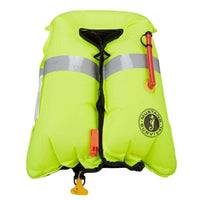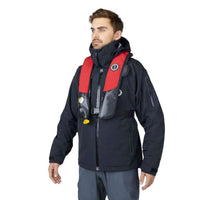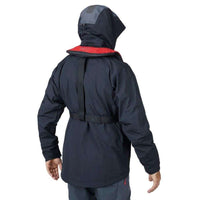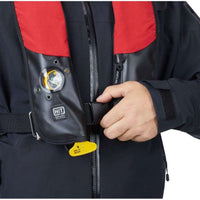 Mustang Survival H.I.T. Hydrostatic Inflatable PFD Vest (Automatic Hydrostatic Activation)
The Mustang Survival Hydrostatic Inflator Technology (HIT) offers reliable inflation in a low maintenance design that will only automatically inflate when submerged in 4'' or more of water pressure and not inadvertently due to rain, spray or humidity. Exclusive to Mustang Survival in North America and maintenance-free for 5 years from the date of manufacture or until inflated. It also features the patented SecureZip closure system to ensure the PFD will stay closed during even the most rigorous activity and still opens effortlessly upon inflation. This lightweight and comfortable PFD can be worn over a t-shirt on warm days or over thicker garments in colder conditions. It is low profile and allows for maximum mobility.
OFFSHORE FLOTATION: When rescue may be delayed, flotation needs to be able to weather any storm. 
Engineered, designed & developed for environments where users find themselves in isolated or rough waters, offshore PFDs offer the buoyancy that are suitable for all water conditions.  Ocean racers to adventurous sailors seeking open water can eat, sleep, and push through long days pulling lines in our offshore vests that give them full range of motion, complete comfort, and peace of mind!
Approval: TC – Type II Performance (Meets minimum buoyancy of 33.7 LBS)

Inflator Type: HAMMAR

Hydrostatic Inflator Technology (HIT) will only inflate when 

submerged in 4" or more of water pressure, and not in rain, spray, or high humidity

38 LBS of buoyancy when inflated

Manual inflation handle allows you to inflate the vest at any time

Status indicator window: green means it's ready to go

SecureZip closure stays shut in high winds and still opens easily on inflation

Neoprene Comfort Collar


Strobe Light Holder safety whistle and SOLAS reflective tape on inflation cell

Durable outer shell with reflective accents

Backup oral inflation tube

Water resistant pocket

Belt extender sold separately (model # MA7637)

Optional Replacement Mustang Automatic Hydrostatic Re-Arm Kit "C" 

MA7214
Hydrostatic Technology Offers Reliable Inflation The Auto Hydrostatic Inflatable Personal Flotation Device (PFD) will only automatically inflate when submerged in 4 or more inches of water and not prematurely due to rain, spray or humidity.
Approval: Transport Canada
Level: Type II Performance → Offshore Flotation
Inflation: Hydrostatic
Inflator Type: HAMMAR
Sizing: Universal Adult
Weight: 2.45lbs [1.11kg]
Chest: (30" - 52") [76cm-132cm]
Weight: more than 80 lbs. [36kg]
Age: over 16 years!
Inside/Inflated Color: Bright fluorescent Yellow-Green
Buoyancy when inflated: 169N (38lb) - Almost 2x standard foam pfd's
Recommend for: Sailing, Boating, Industrial Marine, Law Enforcement, Public Safety, Sea, Air, Land, Search & Rescue.
The most popular sailing PFD in our inflatable line. Offshore capable with an integrated harness and our highest buoyancy.
Hammar Hydrostatic inflator Technology (HIT) to withstand harsh offshore conditions.

Optional Replacement Mustang Hydrostatic Re-Arm Kit "C" MA7214
Use only Mustang Survival re-arm kits.
Use of other re-arm kits may result in improper operation or failure to operate and will void the product's warranty.
INFLATION TYPE
Hydrostatic Inflation: (With Manual Backup)

The Hammar Inflator is equipped with a hydrostatic valve that inflates the PFD bladder when submerged in 10cm (4inches) of water and gives unique protection against inadvertent inflation in stormy conditions.

No inadvertent inflation in case of rain, spray, splash or humidity
No service requirements for the Hammar Inflator for 5 years.

Mustang exclusive distribution rights to Hammer Hydrostatic inflators in North America.