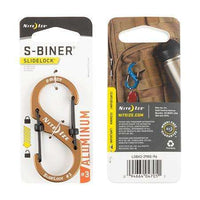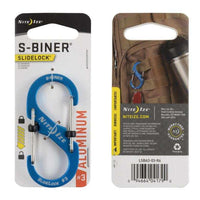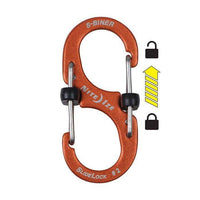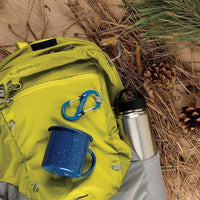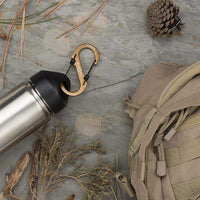 Nite Ize S-Biner Slidelock #3 Aluminum
The iconic S-Biner  design allows quick and easy attachment using its unique double-gated design. This S-Biner features a SlideLock mechanism that allows each gate to be locked independently to keep all your items confidently secured. The lightweight and colorful aluminum body with stainless steel gates is available in a variety of sizes creating a perfect way to hold, secure, and connect everything from keys to water bottles to gear.


Solid aluminum construction
Secure stainless steel wire gates with slide-to-lock feature
2 simple, innovative plastic sliders that slide into place to keep the stainless steel gates securely closed
Gates can be locked independently
Lightweight and strong


Size # 3:

Dimensions: 1.2" x 2.7" x .4"  [31mm x 68mm x 11mm]
Weight: 0.3oz  [ 9g]

WARNING:
Not for use where disengagement could result in bodily injury or property damage. Not for climbing.
Color: Assorted
Sizing: #3
Material: Solid aluminum construction
Secure stainless steel wire gates with slide-to-lock feature
Dimensions: 1.2" x 2.7" x .4" [31mm x 68mm x 11mm]
Weight: 0.3oz [ 9g]