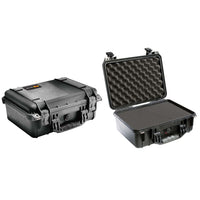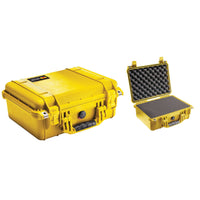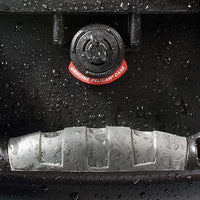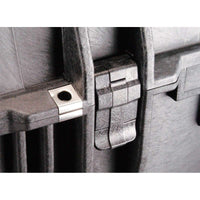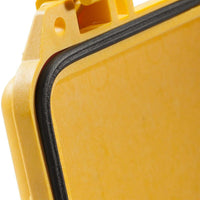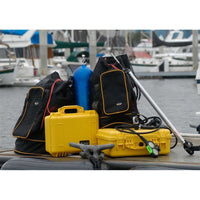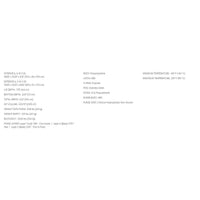 Pelican 1450 Protector Case
Pelican Medium Protector Case. 
Sensitive equipment needs protection, and since 1976 the answer has been the Pelican Protector Case. 
Long the standard-issue protection for cameras, radios, and other delicate equipment. 
Canoeists & kayakers love Pelican Cases for keeping cameras easily accessible, yet utterly safe & secure. 
Because they are fully watertight they are also airtight. 
These cases are designed rugged, and travel the harshest environments on earth. 
Against the extreme cold of the artic or the heat of battle, Pelican cases have survived. 
Made in the USA, these tough cases are designed with an automatic purge valve, that equalizes air pressure, a watertight silicone O-ring lid, over-molded rubber handles and stainless steel hardware.

Pelican Medium Case

Made of lightweight structural ABS foam resin that won't dent, crack, or corrode.

Watertight, crushproof, and dustproof

Automatic Pressure Equalization Valve - balances interior pressure, keeps water out

Light enough to float in salt water with a load up to 9.2kg.

Sturdy O-Ring gasket around the rim makes them watertight.

Removable/Customizable pick-n-pluck foam is perforated into cubes, so you can customize the size and shape of inner compartment. 

Pick N Pluck™ with convoluted lid foam

Comfortable rubber over-molded handle

Easy open Double Throw latches

Open cell core with solid wall design - strong, light weight

Stainless steel hardware

Stainless steel padlock protectors

Lifetime Guarantee of Excellence. Guaranteed for Life, You break it we replace it... forever.
Sizing: One Size [Medium]
Color: Assorted
Exterior Dimensions: [LWD] 16.44" x 13.00" x 6.82" [41.76 x 33.02 x 17.32cm]
Interior Dimensions: [LWD] 14.66" x 10.24" x 6.12" [37.24 x 26.00 x 15.54cm]
Weight: With Foam: 6.39lb [2.9kg]
Weight: Without Foam: 5.51lb [2.50kg]
Temps: Minimum: -40° F [-40 ° C] / Maximum: 10° F [99 ° C]
Usages: Cameras, Electronics, Equipment, Valuables... etc.
Great for: rugged sports, swimming, boating, marine, scientific, EMS, Military, Conservation...