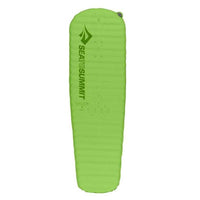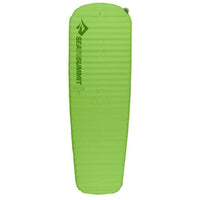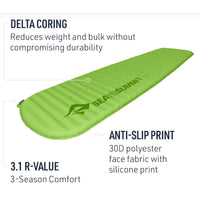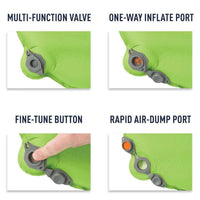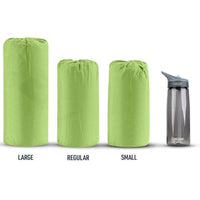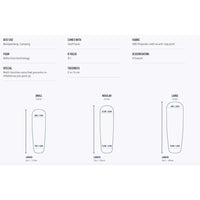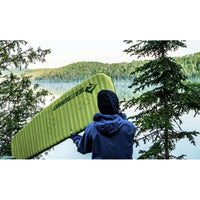 Sea To Summit Comfort Light Self Inflating Mat (2 Sizes)
The Sea to Summit Unisex Comfort Light Self Inflating Mat is an excellent lightweight, backpacking option that offers superb comfort at a low weight and small packed size. The Delta Core technology removes 40% of bulk and weight from the 2" thick foam to keep your nights comfortable. The multi-function valve is a low profile, high volume valve that flips over to allow fast deflation without fighting re-inflation as you go. The Comfort Light Self-Inflating Mat is a real alternative to air mats for many backpackers and for campers who like to sleep comfortably. 
Mummy Bag Shape
Light Weight [Regular: 1

 lb 5 oz ≈ Lighter than a carton of eggs]

Packed Size Comparison [Similar to a roll of paper towel] 

3 Season: Take this mat out late Spring into early Fall, no matter where you are

R-Value of 3.1

 

- sufficient warmth for Spring to Fall camping.
The new ASTM R-Value test standard.
2" [5cm] thick foam for a really comfortable night sleep
Flip-over multi-function valve for fast and easy inflation, deflation and fine tuning of air pressure

Woven 30D polyester face fabric chosen for its light weight and strength

Silicone print prevents your sleeping bag from slipping on the mat, or the mat slipping on the tent floor

Utilizes Delta Core technology, which significantly reduces weight and packed volume

Supplied Pillow Lock patches keep your Sea to Summit pillow firmly attached to the mat
Color: Green
Size: Regular & Large
Type: Mummy Style
Model: Single
Equivalent R-Value: 3.1 [ASTM F-3340-18 Standard Rated] - Best for 3 Season Applications
Season: Rating 2.5 Season. The new ASTM R-Value test standard.
Fabric: 30D Polyester with an anti-slip print
Thickness - Delta Core Technology Foam: 2" [5cm] Thickness
Comes with: Stuff Sack, Repair Kit, PillowLock
Camping, Hiking, Backpacking

Regular:
Dimensions: (LWH) 72 x 20 x 2in [183 x 51 x 5cm]
Thickness: 2in [5cm]
Pack Down: 5.5 x 11in [14 x 28cm]
Weight: 1lb 7oz [650g]
Diameter: 6in [15cm]

Large:
Dimensions: (LWH) 78 x 25 x 2in [198 x 64 x 5cm]
Thickness: 2in [5cm]
Pack Down: 6.0 x 13in [15 x 33cm]
Weight: 1lb 15oz [880g]
Diameter: 6in [15cm]


Technologies:
30D Polyester TPU
The 30D polyester is a lightweight woven fabric with an extrusion TPU lamination & is used in our Self Inflating mats.
30D SOFT TOUCH STRETCH POLYESTER TPU
The 30D Soft Touch Stretch Polyester TPU is a knitted fabric with a TPU lamination & is used in our Self Inflating mats.
ANTI-SLIP SILICONE PRINT
Ever woken up cold because you slipped off your sleeping mat in the middle of the night? Not any more. Select models in our S.I. mats have anti-slip silicone print patterns to help your sleeping bag stick to your mat, & your mat to the tent floor.
DELTA CORE TECHNOLOGY
Sea to Summit have innovated to to make their range of Self Inflating mats thicker, lighter and easier to use. That innovation is Delta Core Technology. This technique reduces the volume of the foam by up to 40% which in turn reduces the packed weight and size of the mattress. The biggest advantage of the Delta Core technology is that it keeps the top and bottom surface of the foam in one piece, this ensures the mat is consistently warm along the full length of the mattress.
MULTI-FUNCTION S.I. VALVE
We have literally put a new twist on our very successful multi-function valve so it specifically addresses the inherent characteristic of self-inflating mats-that is, the problem of the foam trying to re-inflate as you're packing up.
The Pillow Lock System
Comprises of self-adhesive hook-and-loop patches which are supplied with all Sea to Summit sleeping mats (as of Spring 2019),
Attached to your sleeping mat, these patches secure your pillow and prevent it slipping – yet they will not snag on clothing or other lightweight fabrics. All Sea to Summit Pillows (as of Spring 2019) are compatible with this system. Existing pillows can be made Pillow Lock™ compatible by adding an Aeros Pillow Case.
ASTM F3340-18 test to provide R-Values for our mats.
This new testing standard has been driven by industry leaders (including Sea to Summit) wanting to achieve two things:
1. Provide clarity and transparency to consumers
2. Create a universal system to enable users to compare mats across brands.