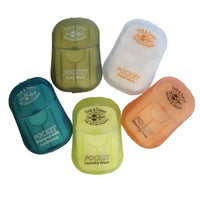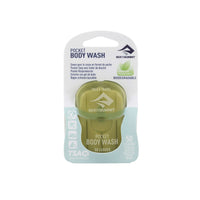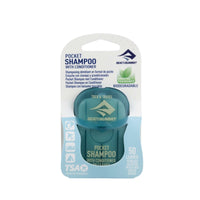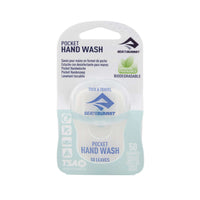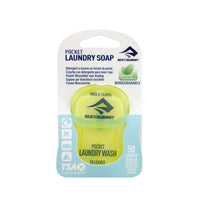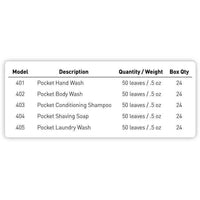 Sea to Summit Trek & Travel Pocket Soaps 4 Types
Palm-sized soap leaves. The Sea to Summit

new use-specific Trek & Travel Pocket Soaps contain 50 leaves of pure, dry soap so there's no risk of leakage in your luggage or pack and no risk of having it confiscated by airport security. 
The easy-to-ration leaves mean you'll have plenty of soap to last your entire trip. 
Handy for travel or camping because they're lightweight and compact. 
They're also biodegradable so they won't harm the environment.


Phosphate and Paraben free

Biodegradable /Environment friendly phosphate free

Light Green Tea fragrance

50 soap leaves in each pack

TSA Carry-on compliant

Comes in five types: Body Wash, Conditioning Shampoo, Hand Wash, Laundry Wash and Shave Soap.


PERSONAL CARE: Staying clean in the back country or during travel is not always easy. Our towels, soaps and other personal care accessories give you a fighting chance.
Size: One Size
Quantity: 50 Leaves per package
Types: Pocket Hand Wash, Pocket Body Wash, Pocket Conditioning Shampoo, Pocket Shaving Soap, Pocket Laundry Soap
Usages: Camping, Trekking, Travelling, Boating, Cycling

Getting Fresh – Sea to Summit Pocket Trek and Travel Soaps
If you've checked out Sea to Summit's range of Trek and Travel pocket soaps and cleaning products, you're probably as big a fan of them as we are.
If you haven't seen them, you might wonder what makes them so popular among travelers. Well, each matchbook-sized package contains 50 dry leaves of hand wash, body wash, shampoo with conditioner, laundry wash or shaving soap. Enough to last through many, many hotel or hostel overnights.