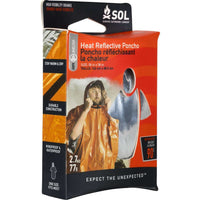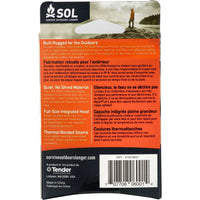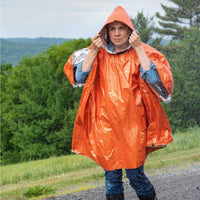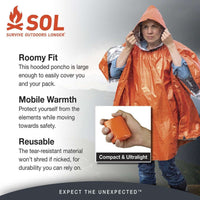 SOL Heat Reflective Poncho
Built rugged for the Outdoors. The Survive Outdoors Longer SOL Heat Reflective Poncho is durable, reusable, and compact. The heat reflective Poncho will keep you dry & warm with its taped seams, waterproof & windproof material, (Not Mylar material which has a tendency to rip & tear) and 90% heat reflective coating.  You'll want to take this ultralight poncho to the ballgame, on day hikes, or on picnics to be prepared for cold or wet weather. Survival Kits, Vehicle and Snowmobile Kits should contain an Adventure Medical SOL Heat Reflective poncho a necessity to be sure.
Protection from Wind, Rain, & Snow
Protect yourself from the elements. This 100% waterproof poncho has sealed seams and windproof material to keep you and your pack dry and warm when the weather changes unexpectedly.
90% Heat Reflectivity
Be prepared for unexpected downpours or surprise snowstorms with this heat reflective poncho. The warm poncho reflects 90% of your body heat back to you to prevent heat loss and trap warm air.
Compact, Ultralight Rain Gear
Throw this lightweight poncho in your backpacking gear, bug out bag, or glove box. The perfect ultralight rain poncho, it weighs just 2.7 oz. and is about the size of a Ramen noodle packet.
No Shred Construction
Stay warm and dry on multiple trips with this reusable rain poncho. Unlike Mylar®

 

or polyester, this material is tear resistant and quiet, so it won't shred if nicked or rattle loudly as you walk.
Roomy Fit
Keep you and your pack dry in foul weather. This one-size-fits-all, hooded poncho is large enough to easily cover you and your pack so your hiking gear stays dry.
Mobile Warmth
Keep moving towards shelter without sacrificing warmth. This emergency poncho protects you from exposure to the elements while letting you move towards safety and be visible to rescuers.
Size: One Size Fits Most
Weight: 2.9 oz [77 g]
Material: 1 mil thick no Shred material highly resistant to punctures & Tears
Dimensions: 3.86 x 1.63 x 6.25 inch [9.8 x 4.14 x 15.90 cm]
Survival Kits, Winter Kits, Camping, Backpacking