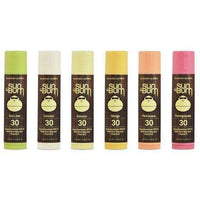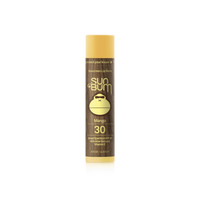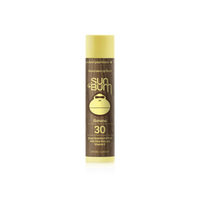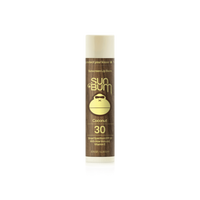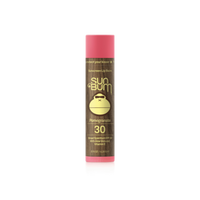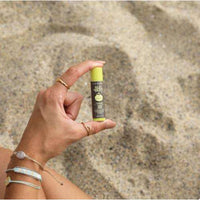 Sun Bum Lip Balm SPF 30
Grab as many as you can because we literally can't keep any of our lip balm flavors in stock. Our smooth SPF 30 sunscreen lip balm selections contain Aloe and Vitamin E which will protect and moisturize your kisser all day long... just try not to lick it off. Convenient Lip Balm Application in a 30 SPF Formulation. Trust the Bum. 
Original Sun Care  This is the stuff we use everyday. It's the formula that started it all. People say it smells like summer. We like that. Whether we're spending a lazy day at the beach or hangin' out on the back porch, our Original formula is definitely our fav...

Dermatologist Tested
UVA/UVB Broad Spectrum Protection
Enriched with soothing Aloe, nourishing Cocoa Butter and antioxidant Vitamin 
Apply liberally on lips to keep them safe and soft.


Not a snack, although it might smell like one.

Reapply frequently on sun-centric days and adventures.

Made In USA


Product Friendly Trust the Bum
Gluten Free

Paraben Free

Cruelty Free

Phthalate Free

Oxybenzone Free

100% Vegan
Flavors: Banana, Coconut, Watermelon, Key Lime, Mango, Pomegranate
Original Formulation: SPF 30
Application: Lip Balm Tube 0.15oz [4.25g]
Size: 1.96" x 1.96" x 2.64" [1.6 x 1.6 x 6.7cm]
Weight: 0.35oz [10g]
Approval: DIN Canada
Features: UVA / UVB Broad Spectrum Protection, Water Resistant/80 Minute, Enriched with soothing Aloe, nourishing Cocoa Butter and antioxidating Vitamin E
Usage: Beach, Holidaying, Sun Bathing, Boating, Travelling, Walking, Hiking, Running, Skiing, Snowshoeing, Snowboarding, Working Outdoors, Playing Outdoors.