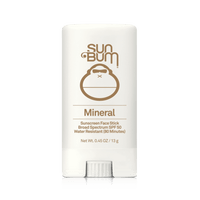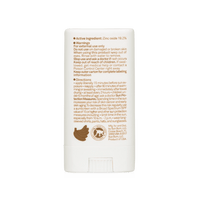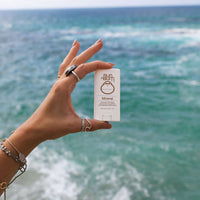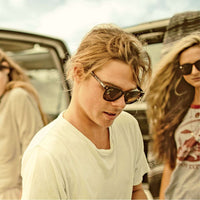 Sun Bum Mineral SPF 50 Stick Sunscreen
Sun Bum Mineral SPF Stick Sunscreen, Our non-greasy, moisturizing, zinc-based Mineral sunscreen in a smooth-glide stick that gives Broad Spectrum SPF 50 protection.  Some of us like to go as au naturel as possible, so we're really proud to introduce our new zinc-based Mineral collection for your lounging and earth loving pleasure. Broad spectrum, lightweight, non-greasy, Mineral Moisturizing Sunscreen Stick SPF 50 is made of safe minerals to protect the skin from UVA/UVB rays. Trust The Bum.  
Dermatologist Tested

Smooth-glide stick rubs in easily and is great for face, lips, nose, and ears

Moisturizing zinc-based mineral formula

Non-Greasy

SPF 50 Mineral Moisturizing Sunscreen Lotion 

Made of safe minerals to protect skin from UVA/UVB rays.

Water Resistant (80 Minutes)


Apply liberally 15 minutes before sun exposure.

Reapply: After 80 minutes of swimming or sweating. Immediately after towel drying.

At least every 2 hours.


Product Friendly Trust the Bum
Gluten Free 

Cruelty Free

100% Vegan

Hypoallergenic

Reef Friendly
Zinc-based Mineral Formulation Sunscreen

: SPF 50
Application: Stick Application - Clear 0.45oz [13g]
Size: 1.2" x 1.9" x 3.3" [3 x 4.8 x 8.5cm]
Weight: 1.4oz [40g]
Approval: DIN Canada
Features: UVA / UVB Broad Spectrum Protection, Water Resistant/80 Minute, Non Greasy
Usage: Beach, Holidaying, Sun Bathing, Boating, Travelling, Walking, Hiking, Running, Skiing, Snowshoeing, Snoboarding, Working Outdoors, Playing Outdoors...